What did I do this weekend? Held hands with a
purple cat and hung out with Katy Perry. Obv
Gals, this weekend I had a fantastically relaxing time at the Acqualina Resort & Spa in Fort Lauderdale, Florida on a recent spontaneous trip sponsored by Schick Quattro for Women, which I used on Friday night and it kept my gams glamorously smooth throughout the remainder of the trip. A better weekend could not have occurred.
A massive group of scheduled-to-the-minute New Yorkers (online beauty gals are BIZ, friends) were forced to chillax and literally never be prepared for the next activity, to which we would be invited each time via a printed invitation. The list of events included: Wave-running, the most amazing dinner in history, beach and pool time, a cabana convo worthy of a teenage sleepover, a Katy Perry concert from a private box and then a MEET AND GREET with Katy herself. Okay? By Sunday, we were ready to spontaneously COMBUST. In a good way. The less delightful result is that all this spontaneity led to a come-to-Jesus convo with a long-time friend Sunday night which effectively ended our friendship, though it's for the best. But that's a story for another time.
Check my tour of my room (video help by Andrea Lavinthal) below, then my review of the fantastic restaurant we ate at on Friday night, The Forge.

The epic private room at The Forge, where we dined.
We also ate at my new favorite restaurant, The Forge, which boasts a decor that is the love child of Philippe Stark and the depths of my inner dreams. It was truly the most gorgeous space I've ever inhabited. The private room where we ate features a mix of masculine wood and feminine high-backed chairs and crystal chandeliers which experienced a first incarnation at The White House. Even better than the decor (which is the best I'd ever seen, BTW–I'd decorate my house EXACTLY like it)? THE FOOD. I took a JOURNEY with their mushroom risotto that, truth be told, I'm still on. It was divine. As was a lobster peanut butter and jelly sandwich I tasted, which sounds vile, but I assure you was EVERYTHING. It had a Thai vibe. You MUST go if you're in Miami. (Miami is nice, so Ill say it thrice.)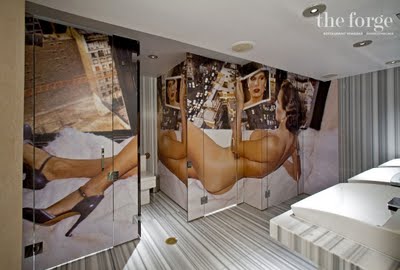 The glamazing bathroom at The Forge.
PS there are lighted vanity mirrors all over. 
The Forge is located at 432 West 41st Street, Miami Beach, Florida. Call 
305.604.9798 for reservations.  The Acqualina Resort & Spa is located at 17875 Collins Avenue, Sunny Isles Beach, Florida. Call 877.312.9742 for reservations.
Like this post? Don't miss another one! Subscribe via my RSS feed.