Hey, girls!
Hope your weekend was fab. I have to tell you about the sublimity that is this super-absorbant Sephora brand hair towel. It's nothing short of phenom. Blow drying your hair sucks (doesn't it? I get tired just THINKING about it sometimes) so I'm always on the lookout for things that both make the drying process shorter and lengthen the time I can go between blowouts.
This hair towel ($20) is made of Aquitex – a material woven from ultra-fine microfibers to wick moisture from hair faster and more thoroughly than ordinary towels. I like to wrap up my hair in this machine washable dream and lotion on up and then do some chores or watch some DVR'd TV for thirty minutes or so before starting the blow dry with my T3 Evolution.
Some tips for prolonging the 'do:

Bain de Terre Scalp Scrub ($15) – I snorted at the sight of this Grace-Adler-style when I received a sample of it and it wasn't until the Beauty Addict's RAVE review that I allowed yet another step into my already-far-too-complicated-hair lifestyle. I was fully intending to use it as a body scrub, for which it can also be used per the box. Well, when the Beauty Addict says that it'll extend your blowout by 36 hours, she MEANS it. I tested it out a few weeks ago and somehow, by exfoliating my scalp (which I plum can't believe NEEDS exfoliation), the telltale I-haven't-washed-my-hair smell was nowhere to be found after 3 days. AND my roots were looking FINE. No hair powder necessary. For $15 for a box of 4, I think it's a steal.
A Satin Pillowcase ($7-30) will make a huge difference when it comes to bedhead.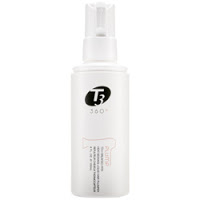 T3 360 Plump $38 amplifies strands beyond belief without making hair sticky or dull. Thicker roots, whether you have fine or thick hair, mean you can go longer between blowouts. Try it out.
What are your tips for extending a blowout? Share in the comments. Happy Monday!