Guys. Did you watch the pilot ep of quarterlife last night? I so wanted to like it as it's done by the same guys who did My So-Called Life. The show is AWFUL. I couldn't even watch an entire episode. The characters are truly irritating. The main character has a blog where she talks trash on her FRIENDS via video (how narcissistic to video blog?) and then wonders why they're annoyed when they find out. I mean… that's just bad form. I find myself with little sympathy for these people, despite that I went through a pretty mage quarterlife crisis myself. In fact, you're reading the byproduct of it.
There's not much you can do to stave off the crisis, other than being happy with your job, apartment and love life. But you can control how you present your eyebrows to the world, and for that, I have two suggestions. One high, one low – for you struggling-to-make-it-in-the-big-city gals who would rather save money in order not to live with 4 roommates than spend a lot on a brow pencil.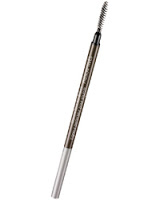 Prescriptives Groom Stick in Clove $18.50
I am loving how easy it is to use this ultra-thin, dual-ended brow tool. Plus it never needs sharpening. Use small feathery strokes to fake brow abundance. The brush side grooms, defines and styles. It's also water-resistant!
Maybelline Define-a-Brow Pencil in Dark Blonde
If you don't have $18.50 to spend, I HIGHLY recommend this drugstore version. It comes with a comb that works surprisingly well and delivers precise application for evenly defined brows. And? It's also waterproof and safe for sensitive eyes.