Maybelline New York spokesmodel Gigi Hadid looked stunning on the 2016 Much Music red carpet with makeup by Patrick Ta in one of my favorite cosmetics combos—the bronzed-out lid and the popsicle lip.  Says Patrick, 
"
The inspiration 
for her look this year came from Gigi herself, which I was able to execute and make it my own. 
She wanted a bronze and beautiful eye with a bold aspect to it which was the red lip."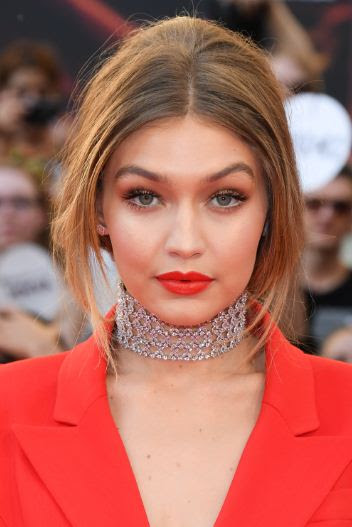 Face, Contour, and Cheeks:
  Ta applied a moisturizing oil to give Gigi's complexion a smooth, luminous 
base.  Any extra hydration allows the makeup to lie beautifully on the skin. To 
ensure her skin appeared glowy and flawless, Ta applied 
Maybelline New York Master Prime
Blur + Illuminate
. Ta wanted her complexion to look clean and bright without looking too heavy, 
so he applied 
Maybelline New York Dream Velvet Foundation
. Using a dark shade in the same 
foundation, he lightly contoured the hollows of the cheeks and added 
Maybelline New York Fit
Me! Bronzer
 to really accentuate the cheekbones. To highlight, Ta applied a concealer two 
shades lighter than the base foundation under the eyes. For this, he used the superstar 
Maybelline New York Better Skin Concealer
. He then added Maybelline New York Master Strobe
Highlighting Stick (launching in July 2016) to the high points of the cheekbones for extra glow.
To make the skin dewy in all the right places, Ta lightly powdered the t-zone with 
Maybelline 
New York Face Studio Master Fix Setting Powder
. Finally, he applied a bronze blush to the apples 
of the cheeks and sprayed the face with 
Maybelline New York Master Fix Setting Spray
 to give 
her skin a natural and luminous finish.
Eyes:
 Gigi wanted the eyes to look bright and clean. To get the look, Ta used 
Maybelline New
York The Nudes Palette
. He applied a light brown color in the crease and a skin tone color on the
lid, and then added in a gold shade to finish off the look. He curled the lashes and coated twice 
with 
Maybelline New York Spider Effect Mascara
.

Brows: 
To create a thicker, more defined brow, Ta applied Maybelline New York Brow Precise
Micro in Blonde. (launching in July 2016)
Lips: 
To complete the look, Ta 
used the shades Orange Danger and Smoking Red from Maybelline New York The 
Loaded Bolds collection (online now and nationwide in July 2016) to create the perfect hue.
What do you think of this look on Gigi?