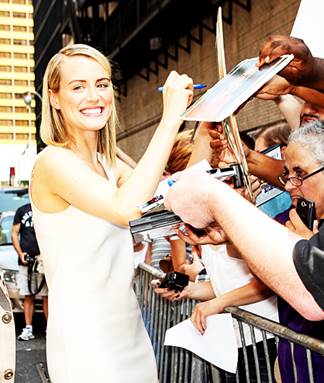 Mane man Ted Gibson created this simple, but chic look for the "Orange Is The New Black" starlet.
Related: Read The Top 13 Beauty Moments in Orange Is The New Black.
To achieve Taylor Schilling's look, Ted started with dry hair and brushed it out with a flat brush to minimize volume and to ensure that there is no bend in the hair.  Then, he sprayed Leonor Greyl Condition Naturelle  Heat-Protective Styling Spray on her roots and applied Leonor Greyl's Mousse au Lotus Volumatrice on her ends for added texture. Then, taking 2 inch sections he blew her hair flat and gave her a deep side part. "I love this part on her because as you can see it opens up her beautiful face," said Ted. He then flat ironed her hair. "When you flat iron you always want to make sure the hair is 100 % dry. If you don't you risk frying your hair and that is grounds for a slap on the hand! Trust me, you don't want that from me," Ted exclaimed.
He finished with L'Oreal's Elnett Satin Extra Strong Hold Hair Spray to keep her hair behind her ears to show off the great neckline of her Calvin Klein A line dress.
What do you think of Taylor Schilling's hairstyle for "The Late Show?"