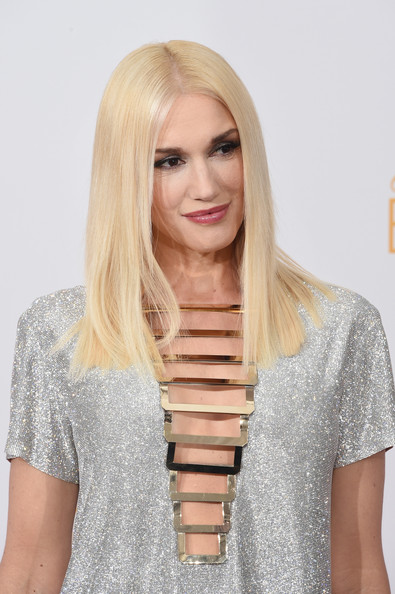 The dastardly marvelous Danilo created Gwen Stefani's uber-straight lob look for the Emmys. The secret to this? A little leave-in before you bust out the flat iron. She may have mispronounced "Colbert," but she looked chic doing it, right? Here, how to get the look, straight from Danilo. 
1.       Start by shampooing and conditioning your hair with a strengthening shampoo and conditioner (like the Pantene Pro-V Beautiful Lengths Strengthening Shampoo & Pantene Pro-V Beautiful Lengths Strengthening Conditioner) to help strengthen hair against damage
2.       Towel dry your hair
3.       Lightly mist the whole head with a detangler (like the Pantene Pro-V Moisture Mist Detangler) and comb through evenly. This will help prep the hair so that it is ready for styling
4.       Arrange the hair into three even sections – One section on each side and one section on the back of the head
5.       Lightly mist each section with a volumizing spray gel (like the Pantene Pro-V Volume Root Lifting Spray Gel) from the root to the middle of the hair shaft for long-lasting volume
6.       Blow dry each section smooth and straight
7.       When your hair is completely dry, lightly mist a shine spray (like the Pantene Advanced+ Keratin Repair KERAGLOSS Oil Mist) on each section prior to flat ironing. This will give hair a smooth finish while also adding shine.  If hair needs a little more, dress each section with a leave-in crème before using a flat iron
8.       Take sections of the hair (no more than 1.5 -2 inches wide) and straighten using a flat iron straight down from the hair part
9.       Continue to flat iron each section until the entire head has been fully straightened
10.   For lightweight control, use a light hold hairspray (like the Pantene Pro-V Stylers Flexible Hold Hairspray)
What do you think of Gwen Stefani's Emmys hairstyle?