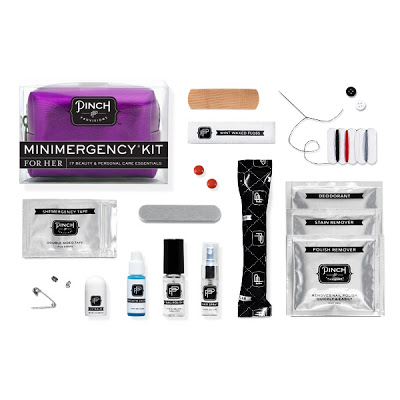 These tiny Minimergency Kits For Her from Pinch Provisions truly contain ever single item of which you could ever possibly find yourself in vital need away from home. I keep one in my purse and one in my carryon luggage and firmly believe you cannot buy too many. It includes 17 must-haves:
hairspray, clear nail polish, nail polish remover, emery board, lip balm, earring backs, clear elastics, mending kit, safety pin, Shemergency® tape, stain remover, deodorant towelette, pain reliever, tampon, breath freshener, dental floss, and an adhesive bandage.
For example, just on my 3-day trip to Vegas for Cosmoprof North America, I've already used the nail polish remover, emery board, lip balm (I forgot mine–scandal!), mending kit and pain reliever (slurpee drinks with a floater at Minus 5 at Mandalay Bay–oy).
They come in beautiful metallic and solid shades. Below, some of the metallic offerings.
And manage too fit nearly as many items into a teensy space in a very Mary Poppins carpet bag manner.
Pinch Minimergency Kit For Her by Pinch retails for $13 at 
shop.pinchprovisions.com
. What emergency items do you carry on you when you travel?
Like this post? Don't miss another one!
Subscribe
via my RSS feed.