Adam Duritz and I both adore grey.
The newest addition to my whore drawer at work are grey eye makeup items that produce a non-strumpety smoky eye in a flash for post-work drinks. A round-up of my fave products of late:

CARGO Plantlove Eye Shadow in Finch ($20) is a mauve taupe shimmer that looks grey on lids. It's made with only natural and organic ingredients and is free of parabens, phthalates, petrochemicals, and synthetic dyes and fragrances. Its high pigmentation yields incred stay-true color.
Stila Smudge Pot in Gray ($18) goes on smoothly and will take you from day to night in a flash. I like to use a shadow brush and blend it all the way to the crease for (Johnny) drama.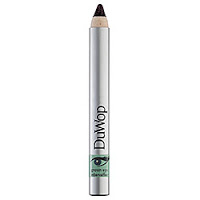 DuWop EyeCatcher Pencil ($18.50) in black is TECHNICALLY a black pencil, but it's sort of a flat, lighter black. I apply a line close to the lashes (obv) with a light hand and it looks more deep grey than noir. I like that the chubby pencil is easy to handle.
Tell me in the comments: what's in your whore drawer?