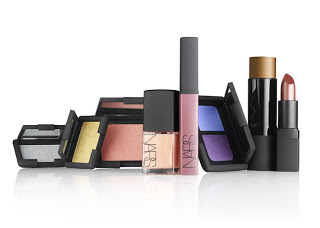 Gild yourself from head to toe with a posh array of luxuries from NARS' Holiday 2008 Collection.  Festive and fabulous, the products are available starting today at www.NARScosmetics.com, just in time for the holiday party season. 

The highlights from the collection:
Super Orgasm Blush $25 – NARS takes the classic Orgasm blush to the next level with this new favorite. Richly concentrated and enhanced with more intense golden flecks, this blush is sure to become a staple in your makeup bag. [I need to try this IMMEDIATELY.]

Jolie Poupee Duo Eyeshadow $32 – Chic and compact, this new eyeshadow boasts shades of vibrant violet and pearlescent purple, the ultimate for creating a bold eye for the holidays.

Night Life Single Eyeshadow $22 – Add light and shimmer to your lids with this ultra-festive silver shadow infused with silver particles.
Silent Night Single Eyeshadow $22 – Gild your eyes with this new shadow enhanced with flecks of gold.
Canaille Lipstick $24 – The ultimate in chic, this satin lipstick is now available in a shade of shimmering mahogany.             
All Night Long Lip Gloss $24 – Impart color and shine to your lips with this new semi sheer dusty raspberry shade.
Orgasm Nail Polish $16 – Complete your holiday look with this new shade of polish in the classic peachy pink an golden shimmer hue.