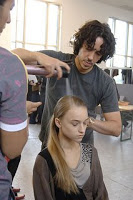 Above: Orlando styling a model's hair.
Guys, today was one of the best days of my LIFESTYLE. You KNOW how I feel about Orlando Pita. Check out number 73 on this list. Tonight, it HAPPENED. Tragically, I had no event to attend as I had to do some freelance work and there weren't any good plans going on this eve. I know, it's really sad. I mean, if I were in a semi-serious relash with a dude… I'd have considered eloping tonight just because Orlando Pita had styled my hair – and I'm so not that girl with a case of barbie hand. AND he did it FOR FREE, not the $800 he normally charges for a cut/style sesh. The fabulous Milli, who does PR for T3 (you know how phenomenal I find their Evolution blow dryer, T3 Twirl curling iron, and the Duality Iron (Medium), informed me that O himself would be styling hair from 4-7pm tonight at Henri Bendel on the second floor. He was doing so to promote his new products he created in conjunction with T3 called Boost and Plump. I naturally made it my BIZ to get there and get my hair did by O himself. In the flesh. I learned that he not only does sublime work, he's also an unbelievably humble, darling man. We discussed his background (he moved from Cuba with his fam at age 4 to New Jersey), talked about how we adore ALL products in general and enjoy learning about the chemical structure responsible for the "potions" we love, dished about fashion week and his fave designers to work with.
Here's a pic of the hair (post subway ride to the UWS, so somewhat windblown, but you get the idea):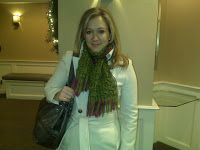 Here's a pic of the UBER-VOLUMINOUS back:

And here's a better pic (although still a bit windblown) from the front at Dana's apartment:

I then went to dinner with my friend Dana on the UWS where we discussed Orlando ad nauseum and she pointed out that I should probably plan my non-existent-at-the-moment wedding to Mr. Invisible, Esq (I usually date lawyers, not sure why… they are good in a debate, which I probably value more than necessary) around Orlando's openings in his schedule. Which sounds nuts because I've never so much as nailed down a single wedding detail thus far–but I'm SO doing that. I don't care if it's 2pm on a Tuesday afternoon in February. If O's free, that's when it'll be. I'd gladly drop $800 to experience the miracle that is voluminous glossiness he readily produces. I'd go budget on the dress in a SECOND if it meant that ORLANDO could do my hair.
Oh, AND. He told me I look like AMANDA FROM UGLY BETTY. Best day of my life. Done. I informed him that I hoped I'd run into every single ex boyfriend of mine this city houses on my way home. Of course that didn't happen, but know what? I don't care because my hair is gorgeous.
Is it POSSIBLE in a world in which we live to fossilize a hairdo? Because if it is, I'm doing it. I think the first step is a sponge bath. It had better not rain until Friday.