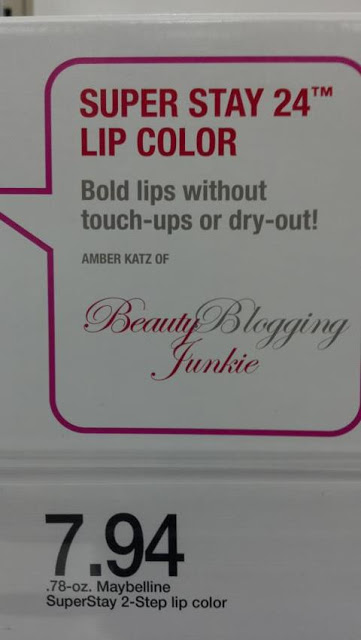 BBJ on the Maybelline display at your local Target!
BBJ is now a sassy kindergartner! I KNOW! Six years ago, when I started this site, I was plugging away at my horrible job in marketing at an accounting firm. Auditors. It's said they can't handle the excitement of accounting. Sometimes I even had the pleasure of working with actuaries. I'm still not ready to joke about that. Read more about the circumstances of my starting my blog in last year's blogaversary post.
The fifth year of BBJ was the best yet. I went to TAHITI with Carol's Daughter to discover the process of monoi making. I've toured Morocco, learning all about argan oil. I was flown to ROME to experience Valentino's new scent Valentina as the sole American beauty blogger on the trip. I attended the Miss America Pageant in Vegas, among countless other fab jaunts. I MADE a MAC eye shadow (Sparkle, Neely, Sparkle!). There's currently a quote from me in your local Target about my favorite Maybelline lipstick (along with quotes from Jeannine, Kristin, Brittany and Amber). My little site I started at my cubicle as a vital outlet for my STANCHED creativity has garnered some sick press this past year, including hits in InStyle, Marie Claire, Allure.com, The New York Times, NYLON and Cosmopolitan. I love bringing the pop-culture infused beauty universe to you guys, because you GET it, you appreciate it, you're all hilar and delightful to converse with in the comments and I'm so, so grateful to you for reading this blog. It's because of you that I'm able to do anything I do. I want to thank each of you (you look FABULOUS today, darling) for reading. It means so much. It was a crazy-long, strange journey to my current career, though. It's perfect for me, but it sure wasn't easy to get here. Read on about the weird circumstances that brought me here.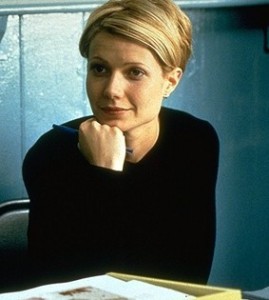 After reading DKNY PR Girl's brill breakdown of how she landed in her own career niche, I thought about my own Sliding Doors moments, of which there were SEVERAL. I'm asked all the time if people can "pick my brain" about how to start a blog. I can share tips, of course, but really, all I can do is tell my story. Replicating it would be impossible. And it also disappoints the 90% of hopeful bloggers in it for the swag who also think blogging will lead to big bucks. You can only do it because you love it, friends. Love is what will keep you bounding out of bed with a good idea for a post. Love is what will keep you writing down ideas on tissue boxes, post its, your work notebook during boring town hall meetings. Love is what makes you commit to writing something at midnight after a long dinner and three drinks because you just HAVE to. It's not about getting a free eyeliner (although that's certainly appreciated).
The truth is that only a small percentage of bloggers make a viable living from their blogs. After six years, I can tell you that my spending 40+ hours a week on BBJ still brings in about 40% of my income. The other 60% comes from brand partnerships, a ghost writing blogging gig for a major hairstylist, stories for MTV Buzzworthy, Daily Glow and Elle.com and finally, copy writing for various beauty and fashion brands. I'm a gal of many side-hustles (I'm lucky that at this stage in the game, I only take on those I adore) to make enough lettuce to support my shoe fetish in the words of Ludacris.
But I digress. Here, the tale of my sliding doors. I always wrote when I was little. I knew I wanted to write for magazines, specifically beauty. It was my dream to work in the beauty department of the now defunct Jane or a teen mag like Teen Vogue or Seventeen. But I had zero connections. I was a Journalism major until Hurricane Floyd hit Boston in 2000. I'd had a news story due as our first assignment in my Journalism 101 class. The hurricane meant class was cancelled; the class where the professor was to explain how to write a news story. You know, no opinions, etc. We scheduled one-on-one meetings with her during office hours. The professor stood me up for mine. Not knowing what to do (I wasn't as proactive as I should have been, in retrospect), and running out of time for the deadline, I wrote it anyway on an event called Collegefest, held annually in Boston. It was hilarious account, but, unfortunately, full of opinions. The professor gave me an F. I'd never gotten one in my life. Not even a "Rewrite this," a "See me," nothing. After she'd stood me up after a natural DISASTER had kept me from learning how to do this properly. Being sassy, I withdrew from the class–I didn't get Fs. I then switched to Linguistics and later to French Literature.
Then, I applied for an internship at Boston University's "Bostonia" magazine, the school's alumni publication. I was thisclose to getting it. I still remember this senior who was hiring for the job, Josh Schaffer, apologetically told me he couldn't hire me, though he thought I was qualified because ANOTHER student had publishing experience already. I was deva. This obviously would have made my journey 1,000 times easier. Later, bt dubs, I saw Josh when he was a bouncer at one of the bars near where I lived in Allston. He apologized for not hiring me. But his friend worked at the law school in the faculty services department and HE was hiring. So I got that job, and promptly thought I wanted to attend law school, which set me off on a total wrong trajectory for my career. Thought being the operative word.
I did research for the law professors, was totally into it. I moved to New York. Took the LSAT with the flu, which was incredibly stupid. I never applied to law school because obviously my score sucked. I'd had a fever. In the meantime, I did score a job (my first gig) briefly after graduating at a small PR firm for beauty, but it was poorly organized and incredibly menial AND I worked until 11pm every night. I quit without another job. Scrapped law school plans in favor of a long-term temp gig I got working in reception, then later the HR department of large law firm Paul, Weiss LLP. After a year, they had to let me go and I took the first full time gig I finally got after a year of interviewing in the HR department of PricewaterhouseCoopers. During the famous blackout of 2003 (an UNnatural disaster, mind you), my neighbors in the Financial District high-rise I was living in at the time and I were drinking on the roofdeck–there was nothing else to do. A senior manager in the Tax division passed along my resume to someone in Recruiting.  My job was to help facilitate the secondment process, importing PwC accountants from offices abroad for the American busy audit season (January through March). It was okay. Since there was zero involved at work, I indulged my writing ambitions with various NYU and Mediabistro magazine writing courses. Then I got a new boss who decided I'd best be utilized as her personal secretary and wanted an insane level of spreadsheet detail from me for… everything. Do you know what pivot tables are? V-lookup? Both functions punctuate my nightmares. Still. All the while, I went on a few magazine job interviews, but never for beauty. A magazine gig never worked out. Meanwhile, at all of my various full-time jobs, I was going on at least an interview a month for a job more suited to my skillset. Many were in the financial industry–corporate communications, speech writing, marketing. I've interviewed at every investment bank there is. I also went on some glamour job interviews at Saks, Bloomingdales, a few magazines, even consulting giant McKinsey. For whatever reason, 95% of the time I was passed over for someone else. In the meantime, earlier in my financial career, I used to email beauty editors at magazines for advice on how to break into the industry, info on how they got their gigs, etc.–and a shockingly small percentage of them responded to me. I always love and respect Polly Blitzer, then at InStyle, for being one of the few who responded to my email. They were hiring a beauty assistant–but they went with a former intern of theirs. There was no introductions from friends who "knew someone." I had to build my own site from the ground up and then network like HELL–several nights a week, in addition to blogging daily and attending beauty launch events–to make it happen.
I got myself transferred to the marketing department of PwC where at least I could write the internal publication for the banking division. It was a small victory. A few years later, I got a job at Moody's where I was hired to edit the internal newsletter. Then, apropos of not one thing, my boss hired someone else to do that after I'd been there a month, changing my job to a glorified HR associate. I was miserable. After two years, I got a job copy editing at my current financial gig, where I still freelance today. I was there full time for a year, dodging multiple rounds of layoffs (this was 2008/2009) under stressful conditions until a startup beauty website which shall remain nameless hired me to be their senior beauty editor. One month in, 60% of the company was laid off and I once again was spared, but only to inherit about 4 full time jobs. I was routinely yelled at for not being able to do all of them perfectly. Who could?
After spending the past three years dodging layoffs, I finally realized I'd learned a lot at all of my jobs, despite not loving a single one. I did a cost-benefit analysis and realized I could put money in a corporation's pocket or my own. I decided to go freelance. I went back to the best financial gig of the bunch three days a week until I got a roster of freelance side-hustles, gradually dropping from three to two to finally one day a week, which I still do in-office.
For the first time in my decade-long professional career, I can say I love my job. I do what stimulates me, what I'm good at. I'm challenged. I can make my own schedule, which more often than not includes 9-11pm on weeknights and Saturday afternoons. But I can take a spinning class at noon on a Wednesday without anyone breathing down my neck. It's a lot of work, but it's a lot of work with a lot of ROI, something I rarely experienced in the corporate world. I've now been freelance for two years and every day is a GIFT. I know if I'd been able to score a magazine job right off, it just wouldn't be the same. It certainly falls under the heading of nothing in life worth having comes easy. Because here's the trajectory: Journalism major->natural disaster->French Lit major->beauty PR->law firm->blackout of 2003->PricewaterhouseCoopers HR/Marketing->Start blog while working->Moody's Internal Communications->financial copy editing->senior beauty editor at beauty startup website->FREELANCE WRITER.
Happy birthday, BBJ! Thanks to all of you readers for making it possible for me to do what I do. May you all have the hair of your DREAMS.
xo,
Amber
Like this post? Don't miss another one!
Subscribe
via my RSS feed.