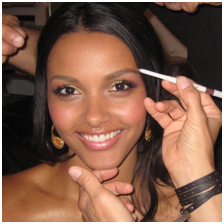 LA based make-up artist Brett Freedman was on hand to turn pretty, casual Jess into eye-popping Melrose Place starlet, Jessica Lucas for an Entertainment Tonight Emmys pre-party this past weekend. Since Jessica had done a black leather dress for her last red carpet, she decided to lighten up and go for full out feminine pretty. Wearing a strapless mini dress by Dolce&Gabbana with embroidered pink and gold, Brett brought the colors of the dress into her makeup without it looking too matchy matchy.

Here's the surprising mix Brett used to create this pink 'n gold confection, straight from the source:
Foundation:
Jemma Kidd Soft Touch Creme in Med. and Dark.
I love the light diffusing coverage of this cream compact foundation. I used mostly dark all over Jess' face, then 'spotlighted' down the center with the slightly lighter medium shade. This brightens the face makes the color palette pop.
Blush:
MAC in Frankly Scarlet.
MAC in Dollymix.
I like to use a color impactful matte shade to give color then sweep a lighter, shimmery powder over top to give cheeks a light catching pop.
Eyeshadow:
MAC in Gold Mine.
After 'sculpting' Jess' eyes with neutral/deep browns I did two things to amp up the glam:
1. I applied MAC Gold Mine with a damp brush to her lids. This really brightened up the eye. The shadow dried to a glazed, dewy finish.
2. I swept the MAC Frankly Scarlet on the outer corners of her eyes and worked back and up toward the temples. I also blended into her the lower lash line. Since I had the deep brown on already to create the 'wing' this modernized it and made the look edgier.
Liquid Liner:
Jane Iredale in Gold.
To make the lash line very crisp I did a very thin line of gold liquid liner from the inner tear duct toward the center, very close to the lash line.
Mascara:
Loreal Voluminous in Black.
I heart the way this mascara really thickens and extends.
Faux Lashes:
Ardell short and medium in brown.
I like to use short from mid-eye to to the outer corners to 'set the stage' for the longer, medium sprigs. I used about 6 short lashes on each eye and then 3-4 medium sprigs on the very outer ends. This creates a beautiful sweep and lifts the eye up and out. I then apply oodles of mascara and curl constantly. A lot of gals think you can't curl fake lashes, but I always do. It's an important step to align your natural lashes with the faux ones.
Brows pencil:
Vanitymark Ultra-Brow Pencil in Dark Choco.
To continue with the golden glow, I decided I to lighten Jess' brows. To give her brows shape and definition, I needed to fill them in. I gave them uber impact with my pencil to powder pencil. I used a spoolie to feather and blend the shade throughout her brow and tail.
Fun trick: To then lighten her brows (so her lashes would be the darkest focal point on the face) I applied the MAC Gold Mine with a wet brush to just her brow hairs. Over Jess' naturally dark brow the color dried to a soft caramel shade. Once dry I brushed a touch of brow gel to seal the shadow for all night durability.
Lips:
Benefit gloss in Life on the A-List
This shade was the PERFECT mix of pink w/gold. It really photographs beautifully. I told Jess when she gets married, this is the gorgeously glow-y shade she needs to wear! I told her to apply often and liberally. Since it's not a deep shade, the shiny gloss is what it going to give her lips pop and definition.
Body:
Vanitymark Shimmerskin body glisten spray.
With all this dazzle and gleam, how could I let Jessica's body look low watt?! Any exposed skin got the 'new car finish'. Shimmerskin's mix of champagne and gold shimmer was the perfect choice to bring all the elements together. Since she was wearing a strapless dress I did an extra sweep or two on her shoulders and collarbone to make them picture-perfect.


Like this post? Don't miss another one!
Subscribe
via my RSS feed.