Hi, girls! (And boys, because at my reunion last night, SEVERAL dudes in my graduating class 'fessed up to reading BBJ. LOVE it!)
How was your Thanksgiving? Mine was PHENOM. I ate far too much turkey. I received the best gift from my BFF AE Lee, an ENORMOUS Twilight poster (featuring JUST Edward) that my roommate and I have taped up in our kitchen. Yes, I know we're both 28. But that's just where it had to live.
Also, at my ten-year reunion last night, my friend Dana B asked about hair product recommendations. I nearly screamed that she MUST familiarize herself with MoroccanOil. Stay tuned for SO many more details about it. I'm obviously dedicating an entire post to this miracle hair elixer. The copywriting claims it produces "striking shine," and that it does. It's my new holy grail product.
In other hair news, Trish, my high school friend who opened her own FAB salon in Ambler , PA is apparently doing everyone's hair from the class of 1998. Seriously. Every time I complimented someone's highlights, the response was that "Trish did it!" If you live in the Philly area, I HIGHLY recommend you check it out. You can also buy MoroccanOil there. Run, don't walk. Here are the deets on the salon:
Barberella Hair (do you LOVE the name as much as I do?)
215-643-40663
3 Forest Avenue
Ambler, PA 19002
Oh, and also? I am just SO hungover from the reunion. Still. The bar was serving BIG GULP-sized vodka sodas, mmkay? And apparently, I needed like, seven, to party like it was 1998. Also necessary when reuning? Using people's first and last names EVERY time you address them. Also, facebook has rendered reunions totes anti-climactic. Nearly every convo I had went like this:
"Mazel tov on your wedding/new child/job, [FIRST NAME LAST NAME]! I saw it on facebook. I promise I'm not creepy. Saw it in my newsfeed."
Using full names is vital in a reuning situ. But most vital of all was my secret weapon – my lip stain/gloss combo I've named The Holiday Lip. Here's what you need to achieve it.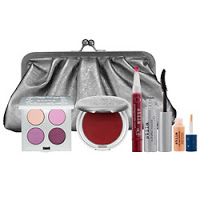 Stila Pomegranate Crush Lip & Cheek Stain
($50 for the Step Out and Shine Set)
Okay. This TO DIE stain isn't out until February. BUT, you can get a sneak preview, if you will, if you purchase Stila's fantastic Step Out and Shine set (more on that later in my holiday gift guide… stay tuned.) The set includes, among other things, a mini version of the stain which yields a deep, popsicle red stain that lasts forev. And tastes like a cocktail. Yum, yum, yum.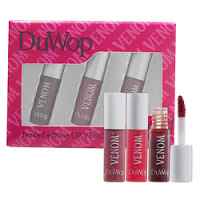 DuWop Venom Rocks Mini Gloss in Garnet ($21)
Garnet (pictured, last gloss on the right) is a sheer, deep berry with gold flecks and is one of three mini glosses that comes in the limited edition set. The two other colors are Amethyst and Pink Quartz. It plumps your pout to pillowish proportions with a bit of a sting, but after my second vodka soda, I felt nothing. It was phenom. This set would also make a fantastic stocking stuffer for any beauty junkie.