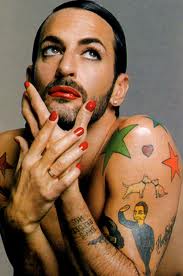 Marc Jacobs's debut cosmetics collection collabo with Sephora is coming soon. Says Marc, "I see makeup, fragrance — everything, really — as an opportunity. The idea of choosing a color for your lip, or an eyeliner — it's just such a delight. The ritual of waking up and making those choices is something people really enjoy. We currently are working on defining what Marc Jacobs cosmetics will be, what they'll say, what makes them distinctive. I think that will take some time, but the first meeting was good."
What do we think? Will it be Tom Ford Beauty levels of amazing? I see punchy bright reds and interesting patterns on the packaging. What say you?
[Source]
Like this post? Don't miss another one!
Subscribe
via my RSS feed.