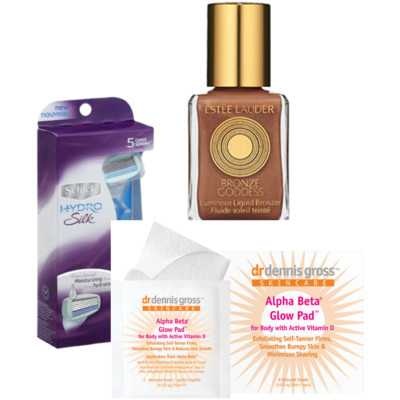 Thanks to the flash heatwave we're experiencing in NYC, yesterday I had to unveil my pasty white legs a good TWO MONTHS ahead of schedule. It made me NERVE! I wasn't READY. I was
Cullen meets Colin from The Secret Garden
(Hallmark special from the '90s version) levels of copy paper white. Luckily, I had three products in my arsenal to get me ready for this unseasonably
gambitious
weather. My
gampaign
included:
Also cornered like it's on rails.

Schick Hydro Silk Razor
GLIDE is so important in beauty. I'd say it's the thing I'm always looking for. It's equivalent to chivalry in dating. It's so rare, but VITAL. Without glide, I'm left BLEEDING. Seriously. My legs normally look like a crime scene as a result of fast shaving. But the new Schick Hydro Silk? Well, in the sage words of Pretty Woman's Vivienne Ward, "this thing corners like it's on rails." The Schick Hydro Razor gives you a really close shave, thanks to its on-blade moisturizing serum that activates with water to lubricate skin, leaving it soft and hydrated. I haven't nicked myself once thanks to the blades being individually mounted to the cartridge at the right angle to allow the tip of the razor to flow smoothly over contours. Pair it with the Skintimate Cream Shave. Available at drugstores nationwide for $10.

Dr. Dennis Gross Alpha Beta Glow Pad For Body
So good it sounds made-up: The genius diaphanous glow-inducing pads Dr. Gross created for face are now available for your bod–with firming, exfoliating smoothing and hair-reducing properties (thanks to an ingredient Capislow), in addition to Vitamin D. I tested it out last night and it's EVERYTHING, friends. No streaking; no smell. That subtle healthy sheen your skin takes on when you use the facial iteration makes a cameo on the bod and I'm loving my shiny shoulders, arms and legs (and you know reflective limbs is always my goal). The towel is also ginormous, thanks to Dr. Gross for making it robust enough not to dry out before I get to my right leg (always last in the lineup) AND texturizing the surface so that it holds more of the active tanning formula. It retails for $45 for a box of 8 at dgskincare.com this June/July.
Estee Lauder Bronze Goddess Luminous Liquid Bronzer
After you've moisturized, apply some sexy sheen to your stems with this pearlescent, translucent slip in a burnished bronze. You can also rock it on your face and decollete for an evening-on-the-waterfront glow. It's $28.50 at esteelauder.com.
Are you ready for bare leg season? Tell me how you prepare in the comments.
Like this post? Don't miss another one!
Subscribe
via my RSS feed.