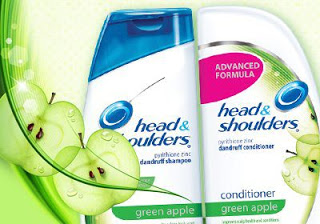 Now that we're getting a sneak preview of summer (is anyone else totally nerve that this balmy March is going to lead to a 200-degree-ish July and August?) it's important to remember to protect your scalp from the sun's damaging rays.  Dermatologist Dr. Ilyse Lefkowicz notes that "Using products that contain aloe to treat skin that has been exposed to sun can also help an irritated scalp." Aloe is a well known anti-inflammatory agent and it's also a key ingredient in Head & Shoulders Sensitive Scalp Care line. Read on…
Of course, Head & Shoulders also incorporates Pyrithione Zinc which treats itchy scalps, an affliction 50% of the population suffer from in the U.S. and Canada. But unlike many shampoos designed for those who suff from 'druff, this one doesn't smell like bad medicine. In fact, you can enjoy all the fresh-scent delights of a non-treatment shampoo with the new Head & Shoulders Green Apple line. It imparts a fresh, clean fragrance, never crossing over into cloying Jolly Rancher/teenageresque territory.
In short? Its love is LIKE Bad Medicine without SMELLING like it. And as you know, in the paraphrased parlance of sage philosopher Bon Jovi, bad [-smelling] medicine is what [your scalp] need[s].
So let's play doctor, baby. Cure [your disease]: Score the Head & Shoulders Green Apple Shampoo and Conditioner at drugstores nationwide and don't forget to "like" the Head & Shoulders For Women Facebook page!


Disclosure: Product and compensation were provided by Head & Shoulders for this post, but all opinions herein are my own.
Like this post? Don't miss another one!
Subscribe
via my RSS feed.