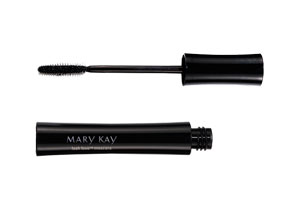 Official Mascara Correspondent takes Mary Kay Lash Love Mascara for a test run. Yay or nay? Find out in her review below.
Sitting writing my review for this mascara, I was hard-pressed to focus on any one particular element that made it interesting or horrible.
While the medium-sized rubber brush allowed me to get to each and every other lash, the formula itself wasn't all that workable, unfortunately. It clumped at first application, let alone with coat #2. I only concentrated the product at the roots because the tips squared-off almost right away. The result was just pigmented lashes, not long or thick or tapered or full.
Midday touch-ups were a no-go because my lashes were too dry for the product to adhere. While it removed easily with soap and water, I wouldn't recommend this one!–Ashleigh Ciuicci
Like this post? Don't miss another one!
Subscribe
via my RSS feed.