Norma and moi! Naturally, I'm
wearing my All-in-One Norma Kamali Tunic.
The What's On Your Vanity Series showcases a single beauty item an industry insider loves because it's effective, but also she feels she must keep out on top of her vanity because the gorgeous packaging must be displayed.


A bottle similar to the one on Norma's vanity. She replicated
 it in an elongated version for her own olive oil line. 
Norma Kamali is a LEGEND. The sultana (yes, that's the female version of sultan–I looked it up) of sweats has long been one of my very favorite designers. Her bathing suits are the stuff of dreams. She can do a shawl collar like no other. And her sleeping bag coats?To die. Do you know that her all-in-one tunic was designed in 1974 and remains just as MAJOR in 2012 as it was then? I literally wear mine once a week and pack it for every trip I go on. It was such a good investment, I'm looking to add a cobalt, red and striped one to my mix, as well.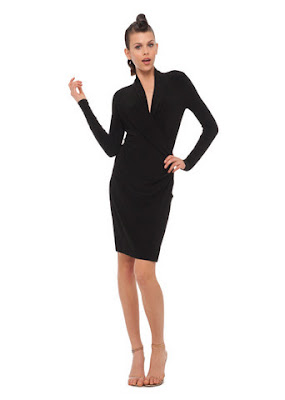 Kamali Kulture Long Sleeved Side Draped Dress
Yesterday, I stopped by Norma's Wellness Cafe at her midtown flagship store where she interviewed me (that's a first, certainly) and I also got to ask her a few burning questions of my own. I also got a tour of her new Kamali Kulture line, which will soon be sold on amazon.com and zappos.com. It's a collection of insanely flattering wear-to-death pieces, each priced under $100 (and many below even that–you can get a gorgeous suit for $100. It ALMOST makes me wish I worked in finance full-time again. Almost.) Stay tuned for a full Q&A with Norma, but in the meantime, read on and check out what's on her vanity. In Norma's words:

"When I turned 50, I realized I had so much stuff and I gave everything away. Everything. So now, there's absolutely nothing on my vanity except a mirror. [ed. note: I LOVE THAT THE ANSWER TO WHAT'S ON NORMA KAMALI'S VANITY IS NOTHING!] But! In my bathroom, I have something that I keep out. I created a fragrance called Norma Kamali in 1982 or 1983 and it can't be made anymore–all the raw materials are impossible to get again. The fragrance is so spectacular. And I have the last bottle. It's a 750ml bottle that I'm never opening. I want to have evidence of it existing and this is all that's left. It's a nice memory. Currently, I wear Intelligent Nutrients Restore fragrance, myself, because I need to restore all the time."
If you think I didn't look up that Norma Kamali fragrance on eBay the second I got home, you don't know me at all. Alas, there's nothing available at the moment, but I did find a photo of it here.
Thanks to Norma for sharing what's on her vanity! Stay tuned for the full Q&A later this week.
Like this post? Don't miss another one!
Subscribe
via my RSS feed.