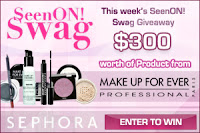 Get a new look for the new year with SeenON!'s newest Swag giveaway. Win $300 worth of sassy makeup by Sephora from Make Up For Ever to help you totally glam it up at your New Year's Eve party and every day after. Register now to win this swag!
Products
Shine On Power
Sens'Eyes – Waterproof Sensitive Eye Cleanser
Eyeshadow
Double Pencil Sharpener
Aqua Creamliner (3 different colors)
Super Matte Loose Powder
False Eyelashes
Aqua Lip Liner (3 different colors)
Aqua Eye Liner (3 different colors)
Mascara
Lipstick
Good luck!