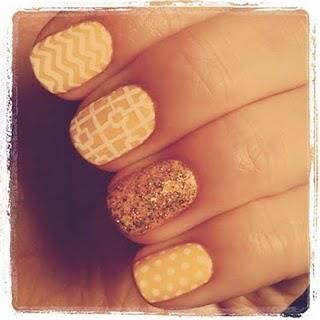 Fictionary is a column showcasing beauty-related words that don't exist, but should.


Remember when I posted about these epic Jonathan Adler nails? It was entirely random that I happened upon them; the pic was posted on the Jonathan Adler Facebook fanpage. Well, would you believe this weekend in Rome (where I was for the new Valentino fragrance Valentina, stay tuned for a post on that) I   met the fabulously sparkly Lynda Moorhead, who created that mani, and didn't even realize it until she tweeted me yesterday once she found that post on my blog? Lynda writes for Beaut.ie, an Irish beauty blog I've read for ages–it's fabulous. This pic was posted on her personal blog, and she walked me through her creation process for this Fanicure.  Fanicure is a twist on a Fictionary entry suggestion from my clever Twitter friend @ABL_Brands, who came up with Parabenoid, as well. 


Lynda says: "Chanel Mimosa + Sally Hansen white nail art pen + glitter + waaay too much time on my hands = JA nailz!"


I plan on replicating the epic Back To The Future Fanicure as soon as I can get myself to Sakura.
What's your favorite Fanicure? What Fanicure would you create?
Like this post? Don't miss another one! Subscribe via my RSS feed.