Me, sans my signature Hydoxatone/Khuraira combo.
The number one beauty question I'm asked? How to get rid of unslightly dark circles.

I swear that without slathering on my usual daily cocktail of intensive hydration and concealer, I'd unironically resemble one Mr. Barnabas Collins of Dark Shadows (ha!) fame. In a role that seems similar from a makeup perspective to his Edward Scissorhands character, Johnny Depp portrays a 200-year old vampire based on the gothic horror soap opera of the same name from the late '60s/early '70s. I'm deeply disturbed that I wasn't around to catch that one; can you imagine the cross-section of vamp and camp?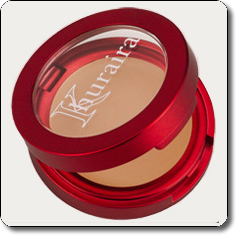 Anywho, to address my own Barnabas-worthy dark shadows that afflict my mug on a daily, I've been using a one-two punch of hydration and concealing. The combo consists of
Hydroxatone Instant Lift Eye Pads
for 20 minutes, then an application via a concealer brush o
f
Khuraira Age Control Concealer With Peptides. The latter is super-pigmented, creamy beyond the beyond and goes on smoother than Don Draper working a living room with a brown drink. Its creaminess belies its color payoff and diffuses fine lines, dark circles, veininess and discoloration in one fell swoop–so you won't look like you've been around since Barnabas' original incarnation. 
Available in three shades, Khuraira Age Control Concealer retails for $35 (a little goes a long way, so the large pot should last you close to a year, if not longer) at 
khuraira.com
. 
The Hyroxatone pads prime the canvas by imparting a refreshing infusion of hydration (hyaluronic acid plus an advanced peptide complex) for a visible difference. I like to use them a couple times a week (strategically, for special occasions and the like) for a much-needed moisture boost. The barrier they yield provides a robust foundation for makeup, minimizing cakiness. Hydroxatone Instant Lift Pads retail for $40 for 60 pads at Dermstore.com. 
You'll love the effects more than Tim Burton loves Johnny Depp.
And tell me: What's your preferred method of covering up dark circles?
Like this post? Don't miss another one! Subscribe via my RSS feed.