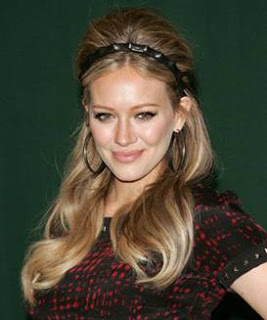 I love a Brigitte Bardot retrospective hair moment, and Marcus Francis created the most perfect replication of Brigitte's signature 'do for Hilary Duff. Here, she's at a New York signing of her new book "Devoted" on Monday, October 10.

Says Marcus, "Hilary and I are always drawn to the casual glamour of Brigitte Bardot. For her book signing event, I wanted to recreate that iconic volume, polished off with a leather headband for a sweet and sexy combo look."
Get the Look:
"Start by spraying Phyto Volume Actif on damp hair at the mid shaft and ends using your hands to build up the natural texture. Then spray Phyto Volume Actif at the roots and use a vented 1 1/4″ round brush section by section. Clip away the top mohawk section until the end.
To create the large waves, use a 1″ barrel curling iron. First spray each section with L'Oreal Elnett Hairspray, then wrap the hair from roots to ends. Curl the hair in the same direction (away from the face) on every section on each side. When you've finished curling the back and sides, lightly spray Phyto Volume Actif then brush out thoroughly with a flat paddle brush, like a Mason Pearson, until you've stretched the curls out to a beautiful wave. Spray Klorane Dry Shampoo for added softness to the waves.
Undo the mohawk section, and starting one inch from the hairline going back to the crown, lightly tease half inch wide sections. With your Mason Pearson brush, smooth out the teased sections but leave height and a slightly messy feel to the texture. Flyaways are actually a great way of making it more modern!
Pull the sides back at an angle into a half up half down style, securing with large bobby pins underneath the hair. Finish the look by using a small headband (I used Jennifer Behr's Leather "Dinosaur" Headband) a few inches from your hairline. Seal with a quick spray over your entire head with L'Oreal Elnett Hairspray."
What do you think? I sort of want to do this for Halloween, but I already did the Brigitte Bardot costume thing. Sigh.
Like this post? Don't miss another one! Subscribe via my RSS feed.