I've mentioned before that I grew up with an older brother of five years who treated me as a visitor to his fun party of boy activities, from a television and video game standpoint. He had the unique experience of being an only child for much of his young life but then also got to reap the benefits of NOT SHARING THE TV AT ALL that people sans siblings are used to. While I hated being able to watch what I wanted only for short spurts until he returned home and once again monopolized the TV, it turned out to be a blessing as I cultivated substantial knowledge of things girls barely tolerate, let alone watch and play. One of those things is Mike Tyson's Punch-out, for the old school Nintendo Entertainment System. The numbers 007 373 5963 are forever embedded in my subconscious as they allowed you to skip past all the other opponents taking you directly to Mike. P.S. I'm still confused as to how Mario moonlighted as a referee.
When you beat Mike, the words TKO (Total Knock Out) flashed on the screen and it was MAD satisfying. Similarly satisfying is the total knock out your frizz will endure when you try out longtime stylist-to-Oprah (you know, no big) Andre Walker's new line of hair products called TKO. In this case, it stands for Total Keratin Obsession.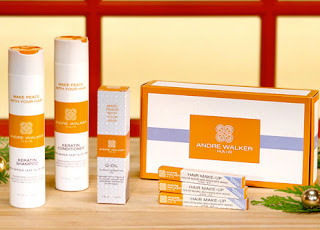 The collection includes Andre's Keratin Shampoo ($23), Keratin Conditioner ($23), TKO Total Keritan Obsession Deep Conditioning Pak and my personal fave, Q-Oil Quench Essential Oil ($35) for styling pre-heat tools or air-drying, as we're wont to do in this weather. The line is infused with keratin for sleek, smooth, heat-wave proof locks. PLUS, do you have a question only Oprah's mane man can answer? Well, you're in luck because Andre Walker is hosting a Hair Twitterview today, Tuesday July 26th at 6pm to 7pm. Andre will answer (by replying and retweeting your twitter handle) any questions that you tweet with the official #AskAndre hashtag.
Andre Walker Hair products are available at andrewalkerhair.com.
Like this post? Don't miss another one! Subscribe via my RSS feed.