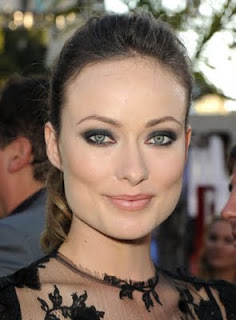 Celebrity makeup artist Melanie Ingelssis created Olivia Wilde's red carpet look for the premiere of Cowboys and Aliens. To off-set Olivia's romantic gown and simple hair, Melanie and Olivia decided the focus on the eyes. Using CHANEL products, Melanie created a strong smoky eye balanced by soft, luminous skin. Read on…
To enhance Olivia's gorgeous baby blues, Melanie began by using CHANEL Intense Eye Pencil to create the shape of the smoky eye, but kept it true to Olivia's shape as opposed to taking it out too much. She then rimmed her entire eyes, including the inside of the waterline with a thick line, also using the soft, easy-to-use kohl pencil. She then used Illusion D'Ombre Eyeshadow in Mirifique, a new long-wearing, shimmering cream eyeshadow from CHANEL, all over Olivia's lids to create a black base. She took the cream shadow up to the crease of Olivia's eyes and underneath, blending it with the kohl pencil so there were no harsh lines. With a black shadow, she redefined the outer and inner areas of the eyes that needed to be darker, creating a sexy and smudgy look. Finally, according to Melanie, "the trick to a beautiful smoky eye is blending, so I took a clean blending brush – with no color on it – and with one motion, I blended the upper and lower colors together." To complete the look, Melanie curled Olivia's lashes and added two coats of Inimitable Intense Mascara.
Melanie began prepping Olivia's skin with CHANEL Sublimage Regenerating Fluid to give her complexion a radiant glow. She followed with Mat Lumière Makeup SPF 15 which she chose for the foundation's long-lasting formula. She then highlighted Olivia's face with CHANEL Sheer Illuminating Fluid.
Products used:
CHANEL Illusion D'Ombre Long Wear Eyeshadow in Mirifique, $36.00
CHANEL Intense Eye Pencil in Noir, $28.00
CHANEL Inimitable Intense Mascara in Noir, $30.00
CHANEL Sublimage Essential Regenerating Fluid, $295.00
CHANEL Mat Lumière Long Lasting Makeup SPF 15, $54.00
CHANEL Sheer Illuminating Fluid in Sunkissed, $48.00
All items are available at CHANEL department and specialty stores and chanel.com
Like this post? Don't miss another one! Subscribe via my RSS feed.