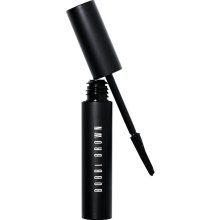 This week, Official Mascara Correspondent Ashleigh Ciucci reviews Bobbi Brown Lash Glamour Extreme Mascara ($24). How does she fare? Read on and find out.
The thing that makes this mascara special is not the brush (rubberized and tapered) or the formula (lengthening and separating) but it's pigment quality. I tried both the black and plum version of this one and I have to say I'm in love with the plum.
 With one coat, I got a lot of density at the roots but found it a little hard to work through the tips. While it was a bit too dry, I could already notice the eggplant-like pigment showing up on my lashes.
 The second coat really took it to the next level with nice full lashes (keep the majority of the mascara at the roots) and an amazing plum hue. While most plums are either too light and make you look sickly or too dark and looks just black, this one is perfectly colored. It made my green eyes zing and still looked soft. I really found my afternoon application to work up nicely to an evening look; lots of fluffy lash in a fun color.
 While I needed eye makeup remover at the end of the night, I loved the effect. I wouldn't wear it every day, but I'd definitely buy this baby.
–Ashleigh Ciucci
Bobbi Brown Lash Glamour Extreme Mascara is available for $24 at nordstrom.com.
Like this post? Don't miss another one! Subscribe via my RSS feed.