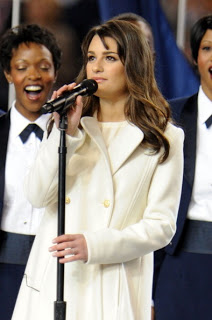 My little beignets, I missed the Superbowl because I was on a ghost tour of New Orleans with some of my favorite bloggers on a press trip to attend the American Academy of Dermatology 69th Annual Conference courtesy of Proactiv Solution. Super fun!! More info on that later, but you know I had to pass on the scoop on how to achieve Glee's Lea Michele's tousled waves on your own. Dove Celebrity Hairstylist Mark Townsend gave her a classic coif she rocked to perform "America the Beautiful." "To me her look tonight was just so Lea – very classic, beautiful and not overdone." said Mark.



"Man, I have the best job in the world, I got to stand on the field at the Super Bowl with Lea Michele! As she was walking onto the field to perform she passed an air vent and her hair went flying! It could have been disastrous but actually worked in our favor–we couldn't have gotten a better look setting up a wind machine ourselves!"

Here's how to get Lea Michele's look–no wind gusts required!

"I always start off putting a drop of Dove Nourishing Oil Care Serum in wet hair. The oil blend in this line – with coconut and almond oils – absorbs into the hair instantly to nourish and smooth dry hair. After applying the serum, I brushed it through.


 "Then I applied a pump of Dove Body & Lift Mousse throughout to get a touchable hold, and I blowdried her hair with round brush.


"Next I sprayed 2 inch sections of hair with Dove Heat Defense Therapy Mist to protect her hair from styling damage.


"I used a 1.5 inch curling iron all over before I brushed out her hair with a flat brush to break up the curls. Then I used a dime-size amount of the Dove Nourishing Oil Care Leave-In Smoothing Cream to create definition and shine.


"I sprayed Dove Extra Hold Hairspray with Natural Movement all over to get a soft hold that didn't look stiff.


"After she walked past the air vent that acted as a giant wind machine, I used a small natural bristle brush to tame any flyaways. The gust of wind actually worked in our favor; when she was performing I looked up at the jumbotron and she looked amazing!"


I thought she looked delightful. What say you? 




Like this post? Don't miss another one! Subscribe via my RSS feed.