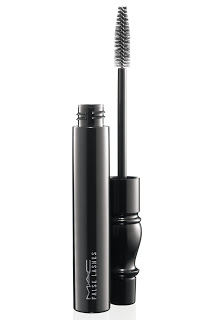 This week,
Official Mascara Correspondent
 Ashleigh Cicucci 
reviews a gem of a mascara from MAC Cosmetics, False Lashes Mascara. Lashes to the sky! The review, in Ashleigh's words:
With a fancy baroque-looking tube, I was looking forward to see what this mascara had to offer. Upon applying my first coat, I found that the medium-sized firm tapered brush was the perfect size and shape for applying the product. The wide base of the brush held the most product and the tapered end aids in getting it distributed evenly.  
The formula is quite wet, but you're still able to control where it goes. I got major length with just one coat. When I moved on to coat two, I found that coat one had dried almost completely and made coat two borderline of spiky. I wasn't able to get a lot of volume at the roots, but my lashes were super long and defined.  
My midday touch-up didn't pump 'em up much, but my lashes looked freshly defined. The best part of all is that it comes off clean with soap and water!  I'd def buy this one.
Like this post? Don't miss another one! Subscribe via my RSS feed.