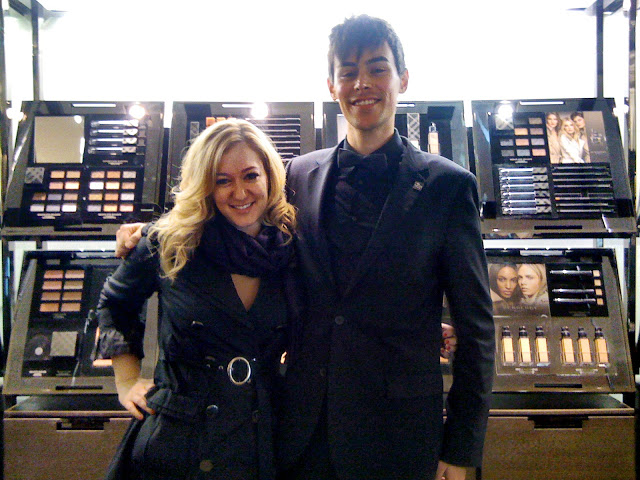 Justin and I at the Burberry Beauty counter at Saks
Dolls, the title is a phrase of my gal Felicia's, of which I've always been a fan. Sometimes "boy-band big" is the only way to get the POINT across. And that's exactly what this makeup range IS. So last week, I skipped on over to Saks Fifth Avenue for a tour of the new Burberry Beauty counter and a makeover with the very talented makeup guru Justin Hissey. Have you gotten involved with this epic line of cosmetics? It launched last year and hit Saks just last month. Most of the products boast a silicon infusion for a luxe, moisturizing texture; each iteration more sublime than the next. Justin pointed out to me that it serves to protect from the elements, as does the brand's iconic raincoats. The Burberry Beauty eye shadows are especially pigmented, but beautifully blendable, thanks to their silky silicon formula. Read on…

A close-up shot of the finished look. Natural, n'est-ce pas?
Justin used:
Skin
Fluid French #3
Porcelain Powder #1
Sheer Concealer Soft Beige (I love this because it's like YSL Touch Eclat–EXCEPT IT ACTUALLY IS PIGMENTED to cover up imperfections)
Glow
Cameo-light Glow Blush
Nude Blow Warm Glow Bronzer
Eyes
Pearl White Shadow
Gold Trench Shadow
Midnight Plum Shadow (used over pencil as a liner)
Midnight Plum Pencil
Midnight Brown Mascara (actually more plummy) used on bottom lashes
Lips
Rosewood Pencil
Nude Rose Lip Cover
Nude Glow Gloss Glow (a gel-based gloss, so it won't cause a weird chemical reaction in the form of peels when layered over your lipstick, the way oil-based glosses can)
I also sprayed copious amounts of the devastatingly sexy new Burberry Body fragrance while I was there.
Head to Saks on Tuesday, October 25 for a personal appearance by Burberry Chief Creative Officer Christopher Bailey and on Friday, October 28 and Saturday, October 29 for the Burberry Beauty Launch Event. There will be an event space in-store all day Tuesday, Friday and Saturday, but you can come in for a complimentary makeup consultation any day to discover the brand. Call the counter at 212-940-2836 to schedule your appointment, and get a deluxe mini Lip Cover sample with any purchase.
Like this post? Don't miss another one! Subscribe via my RSS feed.