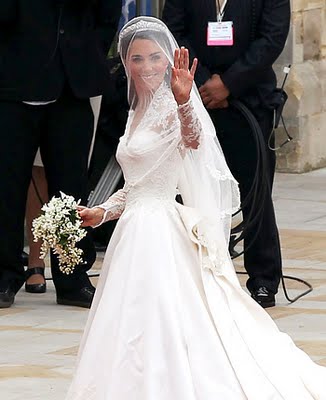 Kate Middleton's wedding dress is by Sarah Burton for Alexander McQueen. Ladies, I couldn't do the 4am thing, but guess who donned a hat and watched at 8am drinking tea and having a biscuit?
I thought she looked beautiful in the stunning gown which features a long veil, with lace covering Kate's bare arms and shoulders. Isn't there a slight nod to Grace Kelly? I think she NAILED it with this dress.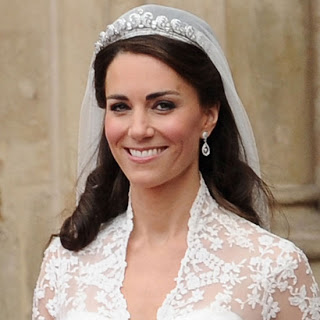 That's a 1936 Cartier tiara. Credit: Getty.
Kate Middleton also reportedly did her own makeup. Can you even? I freaked out when my friend Allison wanted ME to do hers for a small wedding in Kansas. YOUR OWN MAKEUP TO MARRY A PRINCE. I wouldn't do my own makeup to shoot a video. That said, makeup artist Arabella Preston taught her how to do it, and she did do a lovely job. Her eye makeup was a bit more dramatic than usual and looked very pretty.  Her hair? Half up, half down, by stylist Richard Ward.
Prince William looked dapper after an evening of greeting guests, leaning into them warmly, very much in the manner of Diana. That man is his mother's daughter. And Prince Harry. Let's just say I love me some spicy ginger.
Did you wake up to watch the wedding? Tell me EVERYTHING. Go.
Like this post? Don't miss another one! Subscribe via my RSS feed.