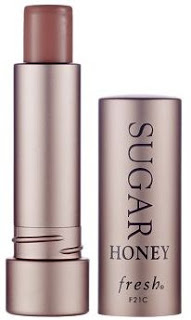 I can't believe I forgot to tell you guys about my latest lip love affair with Fresh Sugar Honey Tinted Lip Treatment SPF 15. These Sugar lip balms are my EVERYTHING. I first spotted the new honey iteration when a magazine editor pulled it out across a crowded room at an event months ago and I straight ACCOSTED her to find out what it was all about because I recognized the light brown packaging as notably NOT Plum, nor Rose nor the standard lip treatment. Sugar Honey is already available at Sephora.com and retails for a slightly pricey $22.50, but hydrates like a dream and leaves a hint of warm caramel color on my lips. DIVINE. I want three.
Consider it your new obfreshion. Buy a Fresh Sugar Honey Tinted Lip Treatment SPF 15 at Sephora.com.
Like this post? Don't miss another one! Subscribe via my RSS feed.