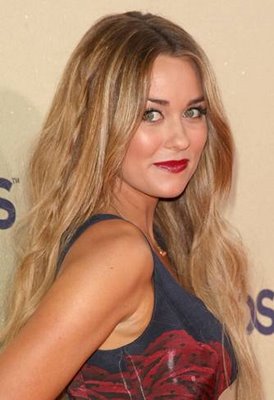 Makeup artist
Amy Nadine
explains how she created official
Gillette Venus Best Legs Runner Up
Lauren Conrad
's
sassy siren look
with
mark cosmetics
. The look was bold, but I was into it. It went with the gothic theme (as
Tamar pointed out on the MTV Buzzworthy twitter
, the event could have been christened the
Twilight Awards
) off the night. I ESPECIALLY coveted her loose, almost-hidden mini-braid. That girl knows how to start a braid trend. It was a bit bigger than the Britney microbraids of 2002, but hidden in the same way. It's hippie fab and I lurve it.
Back to Amy Nadine's break-down of the makeup:
Eyes
"To really bring out her eyes, I started with Mini Mark-it Stick in Shell all over her lid, then concentrated on the eye colors from the Flip For It Spring Color Kit in Los Angeles on the crease and outside corners. Next, I blended the Winkstick Hook-up Eye Shadow Stick in Demure under her brow bone, then lightly filled in her brows with i-Mark Custom Eye Color in Gioia. Lauren loves to do her own black liquid liner along the upper lash line using On The Edge Hook up in Cleo, keeping the line thin while winging out the outside corners. Since Lauren is a big fan of lashes, I coated her lashes twice on top and bottom with Make It Big Lash Plumping Mascara in Raven."

Face
"I just dabbed a little Face Xpert Flawless Touch in Natural with the Foundation Brush around her nose and chin. Next I applied Speedway in Natural as a concealer under her eyes with the Concealer Brush. I followed with Bronze Pro Bronzing Powder directly underneath her cheekbones, on her temples, forehead and under her jawline to give her face a California tan. Finally, I applied Good Glowing Mosaic Blush in Hush Baby, starting at the apples of her cheeks then gliding in small circular motions up to her temples."
Lips
"Apply mark Dew Drenched Lip Color in Juicy."
What do you think? Goth or gorge? Tell me in the comments!
Like this post? Don't miss another one!
Subscribe
via my RSS feed.