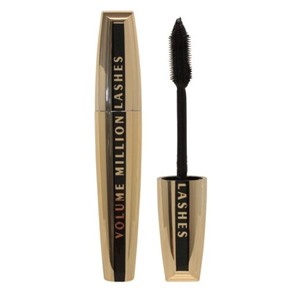 Here's one mascara you'll want to invest in for the upcoming holiday season!
Official Mascara Correspondent
intrepidly sussed out the latest gem from
L'Oreal
: L'Oreal Volume Million Lashes Mascara. Here's why it's so fabulous (in the words of Ash):
Now, if you read my review of
L'Oreal's Voluminous Original Mascara
, you would know that I gave it an A+.  This new vamped-up version fares no different. While initially I wasn't too jazzed about the idea of a rubber wand (I'm more of a bristle kind of girl), I was pleasantly surprised with its application abilities. The wand holds a lot of product, but the bristles and elongated football shape make it easy to evenly distribute said product.  
The first coat gave by full, root-to-tip coverage with wispy ends. You could stop here and be totally happy with the results. But I love a second coat, which was perfect at the roots but got a little heavy at the tips.  My mid-afternoon touch-up gave me similar results; the roots are the only place where it's necessary to boost up. Its staying power is such that I needed to use eye makeup remover at the end of the night. But it's a small inconvenience for such a fab mascara.  I'd totally buy this baby.
Disclosure: A sample of this item was provided for editorial consideration.
Like this post? Don't miss another one! Subscribe via my RSS feed.