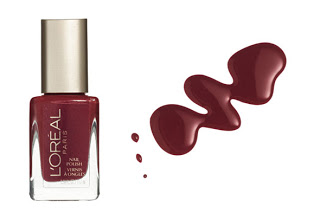 Glamour Woman of the Year Nail Polish by L'Oreal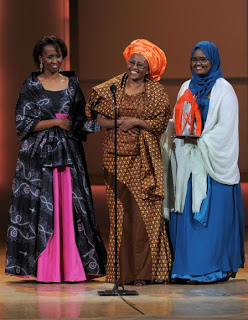 Dr. Hawa Abi and her daughters
Girls, I had the supreme luck and honor of being invited once again by sponsor L'Oreal Paris to my favorite event of the year, the Glamour Woman of the Year event. Nothing is so inspiring, moving, humbling and even dazzling with stars with whom it's ALL I can do not to call Carol from the red carpet press section just to shriek. To use a supremely outdated expression, it's all that and a bag of chips.
We joined some of Glamour's and L'Oreal's gals for a delish brunch (on a Monday! Deliciously decadent!) at Sarabeth's followed by a tour of L'Oreal's Technical Center, hair and makeup touch-ups and finally a backstage tour of Carnegie Hall before we arrived at our posts on the red carpet pre-event.  Some of my favorite tidbits from the fantastic evening:
Creepy pic of Josh Duhamel.
Julia Roberts called Polly Blitzer, Dana Oliver, Jeannine Morris and me "the cute girl section" on the red carpet. Is there higher praise?? Also, in her hilarious speech (where she copped to loving being able to call presenter Oprah her friend), she imparted a little gem of deeply important hair advice. She said that your hair never looks good when you tuck it behind your ears. I'd venture that Miss Julia is a master of many things–but none rank so high as hair–that woman is the follicular QUEEN. And her tip is spot-on. I'm going to try to refrain from hair-tucking at spesh events!
6'5″ Olympic medalist Lisa Leslie rocked heels for no other reason than to feel glam.
I loved Constance McMillen's steadfast but not aggressive determination that her rights are valid–and her quiet disappointment that the world hasn't quite caught up. But she's certain we as a society will get there–and due in no small part to her.
Mad Men's Elisabeth Moss on the red carpet!
Dr. Hawa Abdi and her daughters (also doctors) are such wonderful people, so deserving of the standing ovation with which they were greeted. The women converted their family property in Somalia into a camp for displaced Somalis. Dr. Abdi and her daughters are committed to this cause, even in the face of grave danger. When militants tried to seize the camp last May by taking Dr. Abdi hostage (because they believed a woman shouldn't be in charge of such an operation), she stood her ground and a week later, the defeated rebels left. After accepting their award from presenter Katie Couric, Dr. Abdi vowed that she and her daughters would never be intimidated to close their camp. She explained that her family is determined to change the lives of Somali women. Want to help? L'Oreal Paris and Glamour have joined forces to offer a limited edition bottle of nail polish in a gorgeous creamy maroon mauve hybrid. $3 of every bottle sold will benefit Dr. Hawa Abdi's and her mission to provide food, water and medical attention to the people of Somalia. Buy one here.
Queen Rania of Jordan has created a platform built on social media–a gal of my own heart. She gleamed in a glittering Halston.
Kate Hudson presents!
Honoree Donatella Versace  confessed that mascara is her most vital beauty product on the red carpet.
I was devastatingly disappointed that my fave actress Kate Hudson didn't do the red carpet, but she did show up looking insanely gorge to present an award to her friend Fergie who stunned in a tomato-red Jessica Rabbit gown. Bonus: Hottie husband Josh Duhamel escorted Fergie Ferg down the red carpet. I took about a million creepy photos of him. Like the one above.

Being in the same room with four female heads of state from Lithuania (I am 1/4 Lithuanian!), Slovakia, Trinidad and Tobago and Liberia was amazing. These women literally and figuratively said eff the naysayers and lead sovereign nations.  
My inner queen almost passed out from being so close to icon Cher on the red carpet. She looked like the legend she is with a burgundy smoky eye and big curled locks. But my favorite moment of hers was when she said that "no is just some bullshit word someone made up."
A huge thank-you to L'Oreal Paris and Glamour hosting and letting me be a part of such an awe-inspiring night!
Like this post? Don't miss another one! Subscribe via my RSS feed.