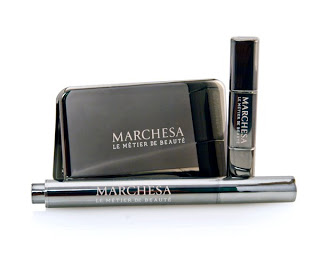 There are few things I love more than a fashion designer/beauty collabo. And this one looks like it'll be one for the books. Marchesa and Le Métier de Beauté partnered to bring women back to a time when the "craft of the craft" was so important, while simultaneously bringing them forward with the best in luxury technology.  The Marchesa for Le Métier de Beauté is a new venture into irresistible luxury. The mercurial silver of the Marchesa for Le Métier de Beauté Collection's outer packaging was directly inspired by Sandra Bullock's silver bugle Marchesa Oscar dress from this past year's awards.  The metallic reflection is captured in the full range of products. Here are the deets on the collection:

THE PALETTES ($65)
With a nod to true personal style, the collection begins with two palettes created exclusively by Marchesa's co-founders and designers, Georgina Chapman and Keren Craig.  Reflective of their tastes in beauty, each palette offers a complete signature look–eye, cheek, lip and face–to transform into your own. 
La Lune
Custom-crafted by Georgina Chapman, a quintet of dramatically bold colors brings Georgina's signature smoky-eyed feminine look to your fingertips.  This diminutive, credit card-sized palette contains everything you need to design an array of smoldering looks. The La Lune palette includes:
    * Translucent Pressed Powder
    * Concealer
    * Lip Gloss: La Cerise Noir
    * Crème Blush: La Peche
    * Eye Shadow: Le Minuit
Le Soleil
Hand-crafted by Keren Craig, this collection of gorgeous, warm hues creates a beautiful bronzed look not to be ignored.  This petite palette contains everything you need to make this sun-kissed look your own. The Le Soleil palette includes:
    * Bronzer
    * Concealer
    * Lip Gloss: Le Caramel
    * Crème Blush: La Rougeur
    * Eye Shadow: Le Fauve
THE LIPS
Double Entendre Lip Gloss ($38)
Four dual-ended lip glosses, eight total shades, infinite bespoke color combinations.  Pairing the signature creamy coverage of Le Métier de Beauté's Lip Crème Lip Gloss with the incomparable, silky slip of Sheer Brilliance Lip Gloss, Double Entendre Lip Gloss brings new meaning to the perfect partnership.  Enriched with emollients and antioxidants for beautiful, supple lips, wear alone or custom-blend your perfect pout.
·         La Figue/La Raisin   – A creamy combination of plum and shimmering neutral
·         La Feu/La Glace – Radiant red balanced with a lush mauve
·         L'embrasse/Le Passion – A unity between a bittersweet chocolate and blushing bronze
·         La Rouge/La Nue – A shimmering nude matched by a golden raspberry hue
THE PENS
Precision application, multi-tasking formulas, long-lasting results, Marchesa for Le Métier de Beauté's Sheer Illumination Pens highlight, contour and conceal depending upon your beauty needs.  Formulated to give a lift to the eye area, our special pens include ingredients that will nourish and calm the eye area:
    * Cucumber extract cools and alleviates puffiness
    * Mango extract is used as an astringent and tightening agent
    * Papaya extract softens the skin and has been called "a natural face lift"
    * Goldenseal and Juniper are used for their toning qualities
    * Echinacea and aloe are used for their healing properties
    * Vitamin E, a natural antioxidant, keeps the tender eye area moist and refreshed   
    * Convenient brush-on formula is ideal for touch-ups
 Sheer Illumination Highlighter
The ingenious Sheer Illumination Highlighter works instantly to highlight and contour in an ever- flattering sheer golden shade.  Ideal anytime of day or evening, on bare skin, with powder, under or over foundation, this beauty essential brings instant luminosity wherever you want it.
Sheer Illumination Brightener ($48)
Look refreshed and revived in an instant.  Sheer Illumination Brightener's liquid to powder formula lightly conceals while brightening.  Redness is reduced, dark circles diminished and your total look revived and refreshed.
The Marchesa for Le Métier de Beauté Collection is available at Bergdorf Goodman and Neiman Marcus nationwide beginning September 2010. 
Like this post? Don't miss another one! Subscribe via my RSS feed.