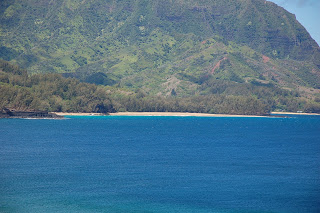 Check the uber-blue water of Hawaii–there's no Photoshop involved in that. It looks just like that in person.
Earlier this month, Julia and I took an amazing trip to Kauai, Hawaii to visit our friend Erika, who's temporarily (perhaps permanently?) based out there helping her fabulous husband Jody with their family restaurant, Kalapaki Joe's (best fish tacos in the WORLD, BT dubs). We ate a strange amount of Ahi Poke (and arrived home on the mainland hoping sincerely we didn't develop mercury poisoning a la Jeremy Piven), rocked out to the musical stylings of Don Ho and shopped for muumuus (solely to make fun of, natch)–we managed to find one such Alohawear item that was so enormous and hideous, it was hard to believe it wasn't found in Mrs. Roper's closet. But, naturally, we couldn't leave this shimmeringly beauteous land of plenty without squeezing in a little beauty time. As luck would have it, the generous folks at Halele'a Spa at the St. Regis Princeville on Kauai invited us in for treaments.
First of all? When I hear the words "St. Regis" I instantly think of luxury and pristine decor and design. My pop-culture ridden consciousness also remembers fondly Lily St. Regis, smarmy girlfriend of Mrs. Hannigan's brother Rooster in Annie. "Named after the hotel," she purred.
Second of all, I purred when I indulged in the Taro Butter Pohaku Massage ($175/60 minutes) with Jane (pronounced JanAY, she's Portugese). The hour-long treatment includes hot stones used to rub in melted Taro butter on your exhausted muscles. I left refreshed and rejuvenated.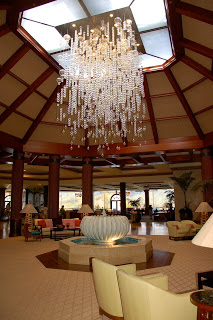 Inside the lobby of the St. Regis Princeville
Halele'a means "House of Joy" in Hawaiian, and it's not hard to understand why. To honor its natural surroundings, Halele'a Spa focuses on the Hawaiian concept of the Ahupua'a, a philosophy of living in balance with nature. The word "spa," even in our language, means healing through water. The term is derived from the name of the town of Spa, Belgium, whose name is known back to Roman times, when the location was called Aquae Spadanae, perhaps related to the Latin word "spargere" meaning to scatter, sprinkle or moisten. But anyway.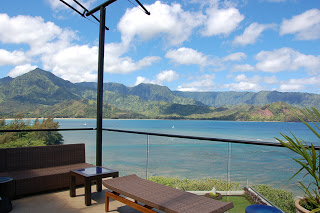 The view from the hotel's lanai
Halele'a Spa uses products created from local ingredients, many of which are exclusive to The St. Regis Princeville and have been developed by Hawaiian based beauty company Malie, which is wonderful. I bought some items from this line that I'll review in a separate post. I'm also going to do a general post about Kauai as well. In the meantime, check out some photos from our trip to the St. Regis Princeville: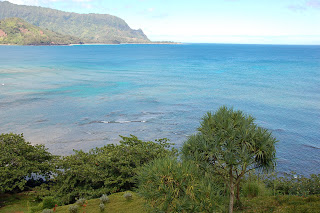 The view from the lanai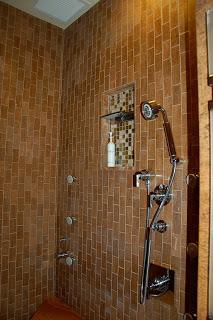 One of the pimped-out shower stalls in the spa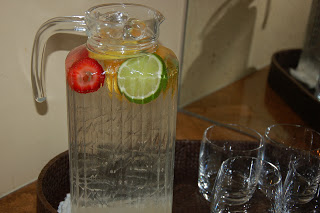 Delish spa water–the best part of any spa excursion