Kumaara Radiant Finish Concealer is one of my critical Day-to-Night Barbie makeup tricks I'm about to employ as today, I'm leaving work at 12:30pm to hustle to the train to New Jersey for my friend Shelby's (sister of my friend Amber) wedding.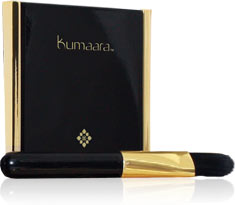 This illuminating concealer complex involves light-reflecting particles to cover up your inner circle situation. Not an inner circle in a GOOD way, an inner circle meaning the inside corner of your eye where fatigue manifests itself in a most unbecoming manner. I like to combine it with my current concealer crush, Trish McEvoy Extra Coverage Concealer Duo ($28), which is fab for camouflaging all manner of facial flaws, but lacks the dewy consistency I crave. The Trish McEvoy/Kumaara hybrid is effective, but not dehydrating, and will ensure I look fly in photos.
We girls can do anything, right Barbie?
Kumaara Radiant Finish Concealer retails for $30 at kumaara.com.
Like this post? Don't miss another one!
Subscribe
via my RSS feed.