Grand Hotel Plaza's epic ballroom
This weekend, courtesy of Valentino and Puig fragrances' new Valentina fragrance launch (a post on that to come later this week), I partook in a whirlwind tour of Rome. In true Italian fashion, from the second the sojourn began, it was dramatic, breathless and involved tons of hand gesturing. It began with my nearly missing my flight, having arrived only one hour before the flight LEFT. Did I mention it was international? Did I mention I'm irrationally frightened of being late for ANYTHING–especially a flight, an international one, for a business trip?

The Trevi Fountain!
At the first counter, the Delta staff couldn't print out my boarding pass as it was too late. I then had to stand in a line at the ticketing counter where a lovely woman acknowledged that I still had time to catch this plane if I ran like HELL. So I did. I aggressively NYC'd my way in front of people at security, then had to catch a shuttle to another terminal (of course). I sweated nearly five pounds before finally arriving at my gate only to find that a flight to Frankfurt was boarding instead and my flight had been delayed 30 minutes. On the flight, the man next to me asked when I was going to calm down an hour into our ascent. "Never," I responded. I'd told Foursquare I'd thank the Pope personally in the Vatican if I made the flight upon checking into JFK.
Italian products at a pharmacy
I arrived eight hours later at the beautiful Grand Hotel Plaza, a 19th century former convent. It retains old worldy Italian charm from its formal marble steps to its sick ballroom that looks like something out of Masterpiece Theatre. It's steps from The Spanish Steps on Via Del Corso. My first day, I was able to explore after a two-hour nap. I didn't have much time to myself to sight-see, but I had a few non-negotiables on my list. Latin scholar that I am, the first thing on my list was the Colosseum. I shrieked when I saw it. In a sort of Vegas move, there are men dressed as gladiators all around with whom you can snap pics. I felt very at home in my gladiator sandals. Check the video of my room below:
Thanks to my stunning lack of direction, I got lost ON THE STREET of my hotel, as the address numbers there were not in numerical order. It was a veritable free-for-all. Thankfully a devastatingly handsome Italian man named Raphael (of course) stopped me and asked if I needed help. Can you imagine? He walked me to the hotel (about 4-5 blocks up the road) and was charming as all get-out. Go to Italy for the men, if not for anything else. I'd wanted to buy a bottle of Limoncello for the cocktail party to which I was heading, held at the father of one of the group organizers' amazing Roman terrace, overlooking the Colosseum. Otherwise, you'd best believe I'd have accepted his invite to join him at a cafe for a cappuccino. The next morning I was able to throw some coins into the Trevi Fountain like a total tourist before starting our fragrance launch luncheon and trip to the Valentino atelier.
The view of the Colosseum at sunset.
After far too many pasta meals (tonarelli, look into it) and flirting with many Italian men (it's like–you have to fight them off with a stick there, i.e., the promised land), it was time to take a car back to the airport. My driver slash new best friend Giovanni was amazing and gave me a guided tour of the city on the way, insisting we had time to stop at Vatican City's St. Peter's Basilica, as it was minutes from noon on Sunday, when the Pope appears in the window. Alas, he was busy and didn't show up, but it was such an incredible experience to see it, even quickly. I mentally thanked him for allowing me to make my flight as promised, feeling like he got the message since we were so close geographically. Giovanni and I then discussed the French Dukan diet and nine thousand other things on the rest of the car ride before he told me my flight was actually not Delta, it was changed to Alitalia, and that that happened all the time. I started freaking out that I'd be dropped off at the wrong terminal, but he made some calls to confirm it and insisted. He said he'd walk me inside to my gate to be sure. It turned out he was TOTALLY right. One thing to note? Roman drivers are CRA. This is coming from a New Yorker. You take your life into your hands crossing the street and being in a car with one of them is a scene uncomfortably similar to Nintendo's Rad Racer video game of the '80s.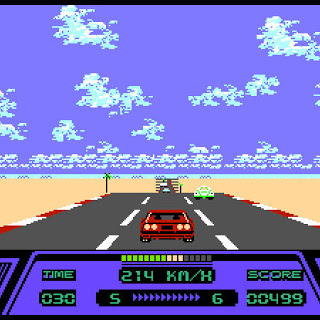 Rad Racer
That said, they walk at a hilariously leisurely pace on the narrow sidewalks of their ancient urban metropolis. Don't try to pull your usual SoHo figure-eighting speed in this town.
The steps at the Grand Plaza Hotel
All in all? An absolutely magical time and because I threw some coins into the Trevi Fountain, I look forward to my trip back. I hope it'll be soon.
A delightful Italian dog staying with my hosts
at the Colosseum-view rooftop cocktail party.
Have you been to Rome? Tell me EVERYTHING. Go.
Like this post? Don't miss another one! Subscribe via my RSS feed.