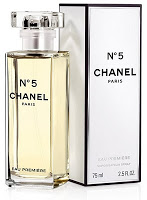 The What's On Your Vanity Series showcases a single beauty item a blogger loves because it's effective, but also she feels she must keep out on top of her vanity because the gorgeous packaging must be displayed.  
Dolls, part two of Polly's on-vanity beauty story, in her words. Missed part 1? Read it here.

A bottle of Chanel No. 5 Eau Premiere has a standing spot on my vanity. One spritz in the morning gives me a full day of heady floral joosh. A couple of years ago, Chanel brought me to their annual jasmine harvest in Grasse, France. After feeling drunk on jasmine for 4 days and watching the production of No. 5 from bloom to bottle, I get transported to the fields every time I take a whiff in my far-less-exotic NYC apartment.
Love it! Tell me: Are you a Chanel No.5 fan? 
Like this post? Don't miss another one! Subscribe via my RSS feed.