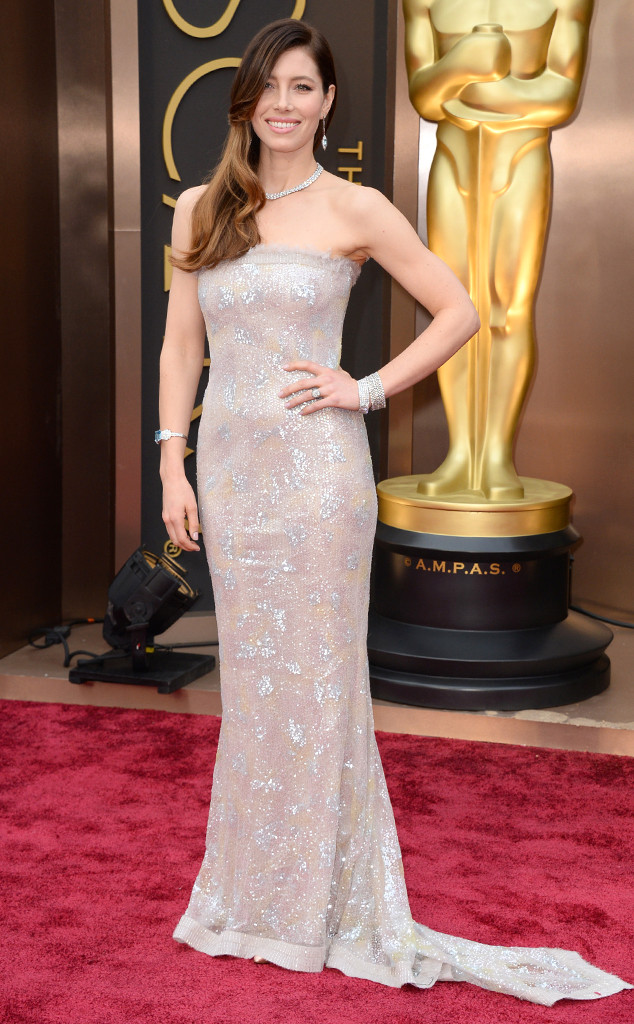 L'Oreal Paris Consulting Celebrity Hairstylist Mara Roszak created a fabulous Veronica Lake 'do for the beautiful Jessica Biel at the Oscars this evening. Jessica wore a beautiful, metallic Chanel dress that was very clean and gorgeous. I wanted her hair to have that same elegant, polished feel with a nod to old-Hollywood glam. Here, the beauty breakdown. 
STEP 1: To start, when her hair was still damp, I applied L'Oreal Paris Oleo Therapy Perfecting Oil Essence ($12.99) from the middle to end of her hair. This helps smoothe the hair to make it silky and shiny.
STEP 2: I then sprayed the L'Oreal Paris Boost It High Lift Creation Spray ($4.99) at the roots. Even though we were going for a smooth and sleek look, I still wanted her to have a little volume at the roots.
STEP 3: I then I made a deep side part and blow dried her hair with a boar bristle brush.
STEP 4: Once hair was blow dried straight and smooth, I used a 1 ½ curling iron and just curled the ends of hair to give it a bit of bend.
STEP 5: Once I was done curling the hair, I sprayed the L'Oreal Paris Advanced Hairstyle Sleek It Strand-Smoother Serum Spray ($4.99) all over. This helped give the hair an ultra-sleek look, while adding a touch of shine.
STEP 6: Even though the rain had stopped, I finished with the L'Oreal Paris Lock It Weather Control Hairspray ($4.99) to lock in the style and make sure Jessica would not have to worry about anything all night.
What do you think of this look on Jessica Biel?