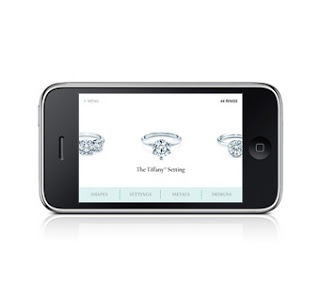 It makes zero sense for my former hopeless romantic sensibility to be stimulated by this. I've been living (and dating) in New York too long (read: eight years) where men you meet either a) never ask for your number or b) deign to involve you in their harem. Both options suck, and for that reason, I choose to date men who live elsewhere or simply involve myself in various and sundry vampire fiction, like any sane woman who fancies herself a person to BE fancied, rather than a pursuer of men here to sweep them off their feet. Vampires, as you know, are always much older (i.e., over 100) and carry over rituals from a dating culture that's much less vomitatious. But I digress.
Perhaps Tiffany & Co.'s Engagement Ring iPhone app was designed expressly for that purpose–breaking through the barriers of MAJOR jadedness. It somehow dismembers my raging intolerance of all things marital brought on by stories of girls that I know and girls that I only read about in The New York Times Style Section throwing themselves at single dudes as if each one was the last man on earth while single women in the city are as common as sand on the beach. Why? Because Tiffany engagement rings are special. Just looking at them restores my 2002 dating sensibility–if just for a moment.
The app includes an accurate Ring Sizer, the first tool of its kind from a jeweler, that lets users determine their size by placing an actual ring directly on the screen and aligning it with the correct circle in the guide. Pretty genius. You can also browse the collection according to shape, setting, metal or design. The rings are shown true-to-size and each style can be viewed with diamonds of six different carat sizes. So basically, a scale of your musician boyfriend's salary to JLo circa Bennifer. You can then zoom in on a ring's details, pair the rings with wedding bands, and save or share your favorites with your friends via e-mail, Facebook® and Twitter. Whether you're looking to buy or receive a Tiffany engagement ring, this app will make the process easier–and fun.
Access the Tiffany & Co. Engagement Ring iPhone App.
Like this post? Don't miss another one! Subscribe via my RSS feed.