With many beauty product brands drawing inspiration from eras past, (i.e. gold nail polish inspired by the opulence of Versailles or skin care based on the personal formula of a Ming Dynasty princess), I'm fascinated by the ones with a strange vibe. It's easy enough to bring beauty to the marketplace with a celebrity spokesperson or floral ingredients. But these three rogue indie brands boast unusual concepts bordering on the macabre–and make it work.
Ellis Faas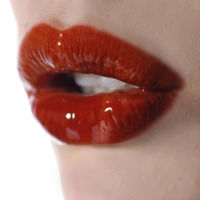 Ellis Faas is influenced by the colors of the human body. Vaguely medical, vaguely… fabulous. Founder/makeup artist Ellis Faas noticed that "the best way to add shadows or take them away to enhance beauty is with the colors naturally in the skin or under the skin." The shades evoke the natural hues of anatomy: veins, blood and freckles.
Must-have Item: Ellis Red lip color ($35 each, Bergdorf Goodman) comes in three Ellis Lips textures: Creamy, milky and glazed. Ellis Red lip color stains lips every so slightly so there's no need to reapply.
Etat Libre d'Orange
Etat Libre d'Orange is a shock value-driven indie perfumerie based in Paris that treads the line between fabulosity and vulgarity. The brand boasts crazy combos like Jasmin & Cigarette, which features notes of jasmine, tobacco and tonka bean. Riveting raunchiness at its finest.
Must-have Item: Putain des Palaces (Hotel Slut in English–$80, Henri Bendel) a fragrance that blends floral, leather, mandarin, ginger and animalic notes. Rock it if only to have a reason to tell people you're wearing eau de… Hotel Slut.
D.L. & Co.
The skull trend when it comes to fashion eludes me and yet I'm fascinated by the Gothic feel of D.L. & Co.'s skull candles. With their luxurious Victorian surrealism, they lend an ancient charm to my cookie cutter IKEA-laced abode. Bonus: They mistakenly lead guests to believe I'm tough, which I'm most patently… not.
Must-have Item: Vena Amoris–The Hand Candle ($150, dlcompany.com) is so reminiscent of The Adams' Family's Thing that I'm inclined to rock a Morticia Adams-style center part when it's on display.
Like this post? Don't miss another one!
Subscribe
via my RSS feed.