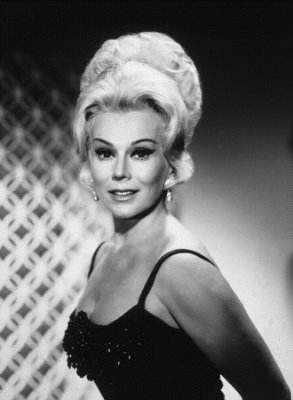 New YORK is where I'd rather stay!
I get allergic smelling hay.
I just adore a penthouse view!
Dah-ling, I love you, but give me Park Avenue.
–Eva Gabor, Green Acres Theme Song
Dolls, I am signing the lease tomorrow for my very own stu stu studio! I know it's totally snotty, but I am most happy about the fact that I got to keep my Park Avenue (South) address. I'm moving just five blocks downtown (exactly) to 23rd and Park. Yes, the apartment is the size of a kitchen table. But it's close to the subway, closer to work, and it's so unbelievably CONVENIENT! Every time I write my address, I feel like I get to channel Eva Gabor in the Green Acres theme song. I used to watch that show on Nick at Night with my brother when I was little. And I was fascinated by Eva's 1960s glamour. But even then I knew: that shit is a CAUTIONARY TALE. You know? Moving from a penthouse on Park Avenue to a FARM? Ish don't think so.
So anyway, I'm readily anticipating all the things I'll be able to do once I live by myself. On top of the list is storing beauty products in the kitchen cabinets–simply because I can. Wearing lingerie mid-day on a Sunday–again, because I can. Drinking a glass of lemonade and telling anyone who phones I'm "Master Cleansing"–all together now–BECAUSE I CAN! I'm gearing up for a very Holly Golightly lifestyle (minus the implied escort vocation). Obviously, I will rock the heck out of this. But most of all? I'm looking forward to making my mirror face all the time. What's a mirror face? Allow me to explain:
Again, here's a list of what one winner will get:
Olay PRO-X Deep Wrinkle Treatment
Eucerin Dry Skin Therapy Plus Smoothing Essentials Fast Absorbing Lotion
Yes to Tomatoes Terrific Day Shower Gel
Sally Hershberger Finishing Cream for Wavy Hair
Philosophy Candy Hearts Pink Bubbly and Angel Food Cake Flavored Lip Shines
So that's the deal, girls! Email me a photo of your best mirror face and a short explanation via email to beautybloggingjunkie[at]gmail[dot]com with the subject line "Mirror Face Giveaway" and you'll be entered to win! You can enter now until next Friday, March 13. I'll announce the winners on Monday, March 15, so check back then!
Good luck!