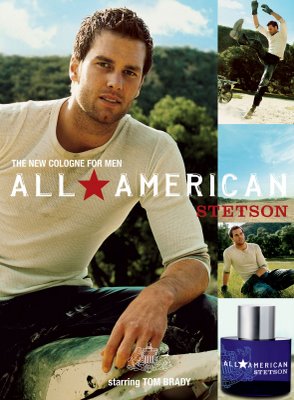 I've had a crush on Tom Brady since the 2002 Super Bowl. I recognize this online venue does not draw a sports-loving crowd (this is not, after all, Sports Blogging Junkie), but allow me to share a tale Sophia Petrillo-style.

In 2002, I was a senior at Boston University. Bostonians were "wicked" excited that their Patriots were playing in the Super Bowl. It was so fitting that a team called "the Patriots" achieved victory so closely following a year so harrowing for Americans. In true collegiate spirit, I watched the game at my friends' frathouse a few blocks away in Allston, Mass. On my walk home with my six other roommates (oh, college), I'd never seen such chicanery on the Allston streets. And anyone who's ever lived in Allston knows there's ALWAYS chicanery on the streets of Allston. In the bitter Boston cold that penetrates your puffiest Northface, people were KEGGING in the streets until the wee hours. That night, the Patriots quarterback Tom Brady completed 16 of 27 passes for 145 yards and marched his team down the field for the game winning score. This garnered him Super Bowl MVP status. That night also marked the first night of my crush on one Mr. Tom Brady.
The hunky Tom Brady is the face of the Stetson brand, and now, he represents All American Stetson. Strong and masculine, he is an inspiration for the young male market, with his self-confidence and adventurous attitude. While the classic Stetson brand continues to embody the spirit of the American West, the All American Stetson brand goes beyond the American West to target today's young male market, ages 25- 35. It's about the lifestyle of the strong, sexy All American guy.

Last night, I attended a launch event for the fragrance at the Coty offices where a group of bloggers were able to ask Tom questions via video conference. Check it below. Oh, and BTW? When I asked my question (sixth one down) I called him Tom Brady to his face. As in, "Hi, Tom Brady." Mortification nation. I was temporarily flustered, what can I say? Read on for Tom's thoughts on everything from what "All American" means to him to the sexiest place a woman can apply fragrance.

What kind of guy wears it?
Tom: It's for the modern cool guy. A man who's comfortable with who he is. From a business professional to an athlete. When you smell it on you, you feel clean, fresh. Ready to tackle what's ahead of you.
What's most memorable about fragrance?
Tom: I like the black suede the most. I made sure that was a part of this fragrance. I think the packaging is great. I love the blue glass. Love the crown on the box. It feels cool, young, and hip. I like that it's affordable.
What do you find sexy in a woman?
Tom: How comfortable you are in your own skin. That matters much more than whether you're tall, thin, full figured. Confidence. Sexiest people are always confident. The way you carry yourself is important to me.
Do you have a grooming regimen?
Tom: I like to shower because I sweat a lot. I need showers quite a bit. I make sure to always have a fresh haircut. Because my mother always insisted, I always keep my nails clean. And I always make sure I put it on Stetson.
Is this a fragrance that a man buys for himself, or one that a woman buys for a man?
Tom: I always feel that it's great when a woman has bought me a fragrance. She can try it out and see if it's what she really likes. It makes it really simple for men. Men can try five different scents. And then your significant other says, "why did you buy that? It smells terrible." It's safer to just have your woman buy it for you.You're guaranteed good feedback, haha.

What kind of products do you use in the morning?
Tom: I'm always shampooing which I hear isn't great. I always use body lotion, especially on my hands, because I'm an athlete. I always have a fragrance. I always brush my teeth. My orthodontist wants me to make some improvements. I'm committing to you guys that I'm going to start flossing more.
Where is the sexiest place a woman can apply fragrance?
Tom: Any place where my nose is next to. Underneath the ear. With my nose right there. And if I want to say something, I can, I'm already right next to it.
What role does fragrance play in setting the mood?
Tom: It's always important. Men find flowers, music, lighting, cleanliness and scent important. You want that person walking away saying damn, you smell GOOD. I hope this fragrance sells and more importantly, that those who wear it get some dates!
What does All American mean to you?
Tom: It's a great compliment. You stand for what's fresh, new, adventurous, independent, articulate. I play for an all American team, represent an all American brand. I want to be an all American guy.
That he is, dolls.

THE FRAGRANCE
All American Stetson is an aromatic woody fragrance.
Top: Cedar Leaf, Guava NaturePrint®, Ginger Root
Mid: Black Suede, Sage, Nutmeg, Fern Water
Dry: Amber Wood, Vetiver, Patchouli, Musk
The cologne launched March 1 and retails for $14.50-$26. A touchdown price, n'est-ce pas?

There's also a video game challenge online at www.allamericanstetson.com where you can virtually challenge Tom Brady (I feel compelled to use his full name all of the time) in sports like kayaking and snowmobiling. Winners will receive autographed memorabilia, round trip tickets to a destination, and bottles of the cologne.