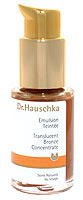 It's NOT because I'm the fairest of them all (which I am). And by fair, I mean, pale, not fair as in, My Fair Lady. It's because I mix 3-4 pumps of Dr. Hauschka's Translucent Bronze Concentrate into my moisturizer on a regular in addition to using Clarin's Self Tanner for Face 3 days a week. This stuff is the Business, I'll tell you why. It's sheer enough that it's not entirely obv that you're wearing a tanning agent. I.e., it allows your natural "youness" to show through a bit, hence the word "translucent" in the title. Secondly, it provides just enough warmth to smooth out imperfections without giving you a cakey-foundationey appearance. And let's be serious, that's never sexy. Simply shake the bottle (it can start to separate over time), pump into moisturizer, smear the blob into your hands and apply to your face with your fingers. Washes off with your regular facewash.
And no, Dr. Hauschka is not paying me to speak so highly of his prods. But he should be.
P.S. MBT should send me a new pair of Boosts (their new model) stat. Not 1 but 2 of my friends threw down $250 to try them out. And NEITHER is sorry, are you, L and C?