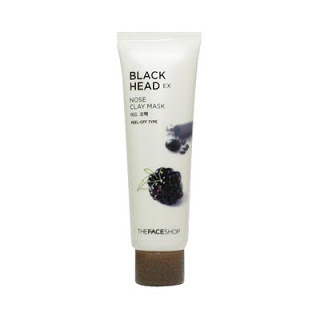 Show me about a cool product from another country and I'm slain like an opponent in Mortal Kombat.
This glamazing Black Head Ex Nose Clay Mask by Korean brand The Face Shop is an exotic little international jewel I picked up after a jaunt at Spa Castle in Flushing, Queens a few months ago with Heather, Dina and Jamie. Spa Castle, BTW, is a simultaneous ridiculous and incredible experience that requires a separate post to get into full detail about what goes on there. It's basically an all-service dirt-cheap Asian spa in Queens where you can eat, swim outside or inside–all year round–nap or partake in beauty services and massages.
Anywho. On our way back to the subway, we stopped at a Korean beauty product shop where I picked up all manner of Asian skin care–a Hannibal Lecter-style (in the words of Andrea Lavinthal) Hyaluronic Acid sheet mask and this Biore-like mask that spreads on like glue. The latter is so satisfying to use, it's almost criminal. If you're the kind of girl who loves to rip off a nose strip and inspect your blackhead innards with wild abandon (and I have to admit, I AM) and wishes she had a mirror during her facial, this mask is for you. All you need to do is spread this bad boy on your nose (do it pretty thickly, otherwise you'll have trouble pulling it off), wait ten minutes, then peel it off and thrill yourself with the results. It's international AND economical: This mask cost less than $7. Totally worth it.
Even better is the hilarious copywriting on the bottle. It says it's "peel-off type." Do you love it?
Do you have a weakness for international beauty products? I can't hit up another country (or even a melting pot of a borough) without bringing a few exotic beauty goodies with me. Tell me your best international haul in the comments.
Like this post? Don't miss another one!
Subscribe
via my RSS feed.