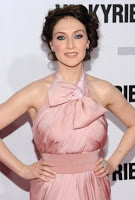 Makeup artist Brett Freeman created this gorge look for Dutch breakout star Carice von Houton. Carice and her stylist Jessica Pastor chose a beautiful blush-hued dress by Donna Karan.
Says Brett, "We all fell in love with the gorgeous draping and subtle color against her pale skin, but I needed to bring out the drama to make the look 'stun' on the red carpet. Smoky eyes were too severe, so we stuck with a clean, shimmery lid and dramatic eyeliner. Carice's skin is dazzling in person, so we kept the rest of her face quite simple, just adding a touch of blush and giving her shoulders a light misting of shimmer to warm up the rest of her skin."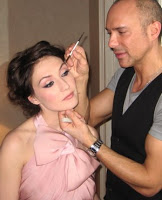 Brett (pictured with Carice, left) used the following products. It's a recessionista mix of high and low:
Base: LORAC Natural Performance Foundation NP1, Oil Free
Face powder: magic by Prescriptives liquid powder
Concealer: Maybelline Instant Age Rewind Concealer and Highlight in 'Light'
Cheeks and eyes: MAC Powder Blush in Springsheen
Brow: Vanitymark Ultra-Brow Powder in Milk Choco
Eyeliner: Rimmel SpecialEyes Eye Liner Pencil in Black Magic
Mascara: Guerlain 'Le 2 de Guerlain' in No. 10 Noir
Lip pencil: MAC Lip Pencil in Stripdown
Lip gloss: Smashbox Lip Enhancing Gloss in Illume
Skin gloss: Vanitymark's Shimmerskin Body Glisten Spray
I adore the eye concept and her brows are killing me softly with their SONG. What say you? Tell me in the comments!