Lately, Julia and I have been upgrading in every way: Scheduling out our morning workout routine for the fall, investing in adorable new wardrobe staples, moving up professionally/academically, AND I've finally moved out of dorm living and into my first apartment. As I happily organized the last of my beauty supplies a few days ago, I looked at my neatly-arranged bin of hair curling tools and realized that I have majorly upgraded since the days of singeing my hair on a drugstore iron while trying not to nudge elbows with roommates in the morning. There's never a bad time to upgrade. In the words of Bey, that's a good look.
Give your hair tool arsenal an upgrade and create dozens of fabulous looks with any one of these 3 amazing stylers.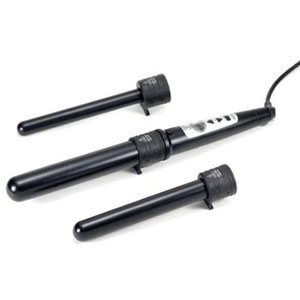 Amika's Interchangeable Barrel Curler
Interchangeable=ingenious. You can invest in the full set, or pick up the starter set and then buy certain sized barrels separately. Either way, the versatility of this wand is unparalleled — you can switch barrels up based on the curl you'd like rather than shelling out for multiple, same-brand and same-model curling irons of different sizes.
The beauty behind using a barrel wand is that it creates distinctly spiraled curls; you wrap your hair around the rod yourself (using the included heat-protectant glove on the hand doing the wrapping). There's a lot of creative license with styling spirals — spray them with a solid hold hairspray immediately off the iron to keep them fun and bouncy, or let them fall over time into elegant waves. I used this wand and the 1″ barrel to create a look before going to the opera a few months ago and decided to brush out the spirals a bit for a more subtle style. Without even realizing, brushing out the spirals created flawless finger waves that, had I seen them on someone else beforehand, I never thought I would be able to achieve myself. Needless to say, I was greeted by dozens of compliments on the DIY elegance, all thanks to Amika!
Julia already wrote a review of this product, but it's too perfect not to mention again. I completely support its being dubbed a "hair game-changer."  The mechanism of this wand actually lies between that of a curling wand and curling iron, because its curling dial works to gently catch hairs and push them automatically toward the wand's barrel.
This wand is ideal for sleek, Kardashian-esque waves that are loose but stay curled for days. Just 10 seconds of wand time per section of hair ensured waves that lasted me three full days, despite spin classes, schlepping around the city running errands, and late August humidity. The wand is super user-friendly, doing the majority of the work for you: simply place a section of hair into one of the prongs on the curling dial, press down on the arrow corresponding to the direction in which you'd like that curl to run (towards or away from your face), and count to ten as the curl dial winds your hair around the barrel of the wand. Once you release the section of hair, you're left with no-fuss waves perfect for both a night out and a casual "I woke up like this" look.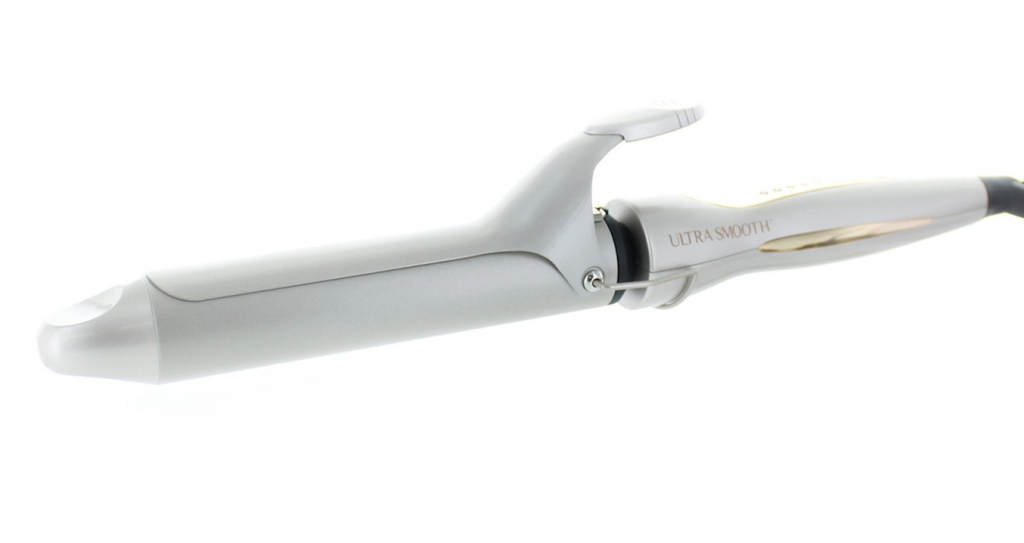 Cricket's Ultra Smooth Curling Iron 
This wand does wonders for both the look and feel of your hair. Before you even apply sprays and serums to keep your waves or curls locked down, the argan oil and keratin protein-infused barrel creates a brilliant shine and leaves your hair soft and smooth. The iron mimics the function of old school hair rollers by leaving the section of hair flat as it wraps it into a tight curl.
I like to open the clamp and place it around a section of hair closer to my roots than tips, running the top of the iron down toward the ends and then wrapping the wand back up toward the roots, curling the hair around the wand as it goes back up. This technique helps to smooth out the waves and ensure that the entire section of hair experiences the benefits of the wand's barrel. This wand is user-friendly because of the tip of the curler, which has a uniquely grooved shape ideal for your non-dominant hand to steady the wand while avoiding accidental burns.
Let these wands into your life for an upgrade and your locks will love you for it. What's your heat tool of choice for fall? Tell me in the comments.