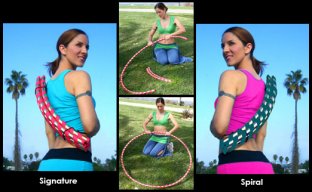 Here's an excellent buy for your New Year's resolution to lose weight: Hoopnotica, a chic hula hoop designed to make losing weight a bit more fun ($40 for the travel hoop). The "adult sized" version is absolutely enorm – too enorm for me to use in my apartment, actually. The good news is that it can be adjusted to 5 segments for children or petite adults. Or adults with petite apartments, i.e., moi. You can even dismantle the whole thing and store it in its own fun bag for easy travelling. It's a fab workout that requires no equipment other than the super-portable hoop pieces in-bag.
Speak of space, or lackethereof, diorama-inhabiting New Yorkers will appreciate this short film: NY designer,
Shadi Shahrokhi
(famous for his interior designs for Vento and Tao) has come up with a solution that is so awesome in a Rube Goldberg meets Edward Scissorhands' castle sort of way for a tiny studio. Shadi is the subject of a documentary hosted as part of the
Digital Cribs
web series. Check out in his superfab loft space (located in that triangle building in the Meatpacking District). Click
here
to view the video. Pretty cool, right?