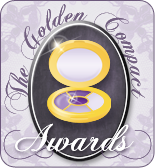 I'm supes pleased to announce my participation as one of the panelists of The Golden Compact Awards! The GCA are the first ever beauty awards by the beauty blog community. The awards will showcase the best in beauty products that made their debut between January and December 2008, with winners in five categories: hair, skin care, body care, makeup and nails. Finalists are hand-selected by five of the most reputable beauty blogs, with winners voted on by their readers.
The Golden Compact Awards were conceived by three beauty bloggers: Jamie Allison Sanders of The Beauty of Life, Michelle Mismas of All Lacquered Up and Lilan Duong of The Daily Cookie.
The 2009 judging panel also includes yours truly and Carolyn Hsu of The Daily Obsession with Resident Dermatologist, Dr. Jody Alpert Levine weighing in on the skincare contenders. After months of testing products from the past year, we nominated the best in skincare, hair, makeup, body and nails for you to vote on. Brands including M.A.C. Cosmetics, Yves Saint Laurent Beauté, Frédéric Fekkai, OPI, Estee Lauder, Lancôme, Benefit Cosmetics and Lipstick Queen, among many others.
I'm asking that you as readers support the awards and cast a ballot! The polls are open from now until February 29th and as a special thank you, we are holding a giveaway! One lucky voter, drawn at random, will receive a prize package filled with products from the finalists. Included are items from Barbar Hair Tools, China Glaze, Givenchy, Herbal Essences, Orly, philosophy, Prescriptives, Tommy Hilfiger Fragrances, Vera Wang Fragrances and much, much more.
Click here to vote!