Presented by Target
Sparkle, Neely, sparkle: This is the 2011 BBJ Holiday Gift Guide. For more gift-worthy items for everyone on your list, check out my other offerings.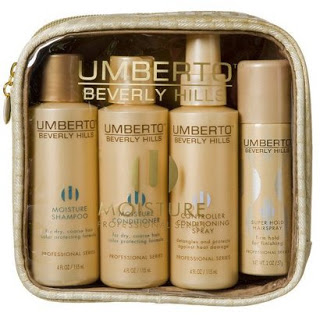 When it comes to hair, I employ the language of high school course level prestige. 


I.e., you'd best be rocking some A.P. hair for the holidays. During the busy workweek, my own mane tends to look College Prep, at best. Occasionally Remedial, when it's up in a haphazard pony. On the weekends, I strive for Honors-level strands. But for festive fetes, you'd best be placing into some Advanced Placement situations and instead of arriving armed with Shakespeare study guides, your best ammo is the Umberto Moisturizing Gift Set, a total barg at $13 at Target. Here's why it'll get you to the head of the hair class.

Winter-ravaged manes need intense hydration to wage war against static, precipitation and cold, dry air outside and even drier air pumped in inside. It comes with a jojoba and vitamin e-infused shampoo and conditioner, the latter comes complete with a UV filter to safeguard against color fade-out; Controller, a lightweight defrizzer/leave-in that yields a smooth, polished shine and a Super-hold Hairspray, a blast that will keep your updo going long after the party ends. My hair feels incredibly healthy and swingy when use the set of products in tandem. This package is ideal for the frequent non-air traveler (each piece is 4.5 ounces–compact, but a bit over the TSA regulations). When her holiday hair goal is height, hold or simply smooth and soft, this is one hair helper on which she'll want to be on the receiving end. 




Umberto is the follicular equivalent of Mr. Moore.
Buy the Umberto Moisturizing Gift Set at Target.com. 


Disclosure: Product and compensation were provided by Target for this post, but all opinions herein are my own. 
Like this post? Don't miss another one! Subscribe via my RSS feed.